Android Smartphones Sales Break Records in Q2 of 2016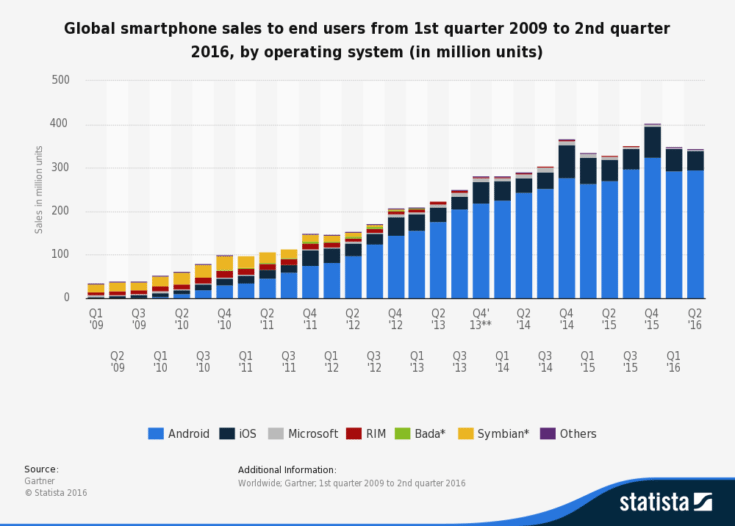 According to a fresh report from Statista, Android running devices accounted for 86,2% of all smartphone sales in the first half of 2016 (globally). That's pretty impressive to say the least, as the previous record of 84,7% was set in 2015, in the 3rd quarter. Apple's iPhone sales are making for almost 13 percent of the market (12,9% to be more precise) following a downward trend, but Apple still sits comfortably on a distant second place after Android, with Windows Phone and BlackBerry passing slowly into oblivion.
Just to put things into perspective, 7 years ago, in the 2nd quarter of 2009, Nokia's Symbian OS was the leader of the pack, having a fifty one percent share of the market in terms of global sales, BlackBerry was on second place with almost twenty percent and Apple's iOS on third with 13%. Also in 2009, Windows Mobile had 9% of global sales whilst Android had an insignificant 2%. While Apple remained basically at its "historic" 13% since, Android became king as users migrated from other (dying) platforms in record numbers.
In a matter of just 2 years, Google's open source mobile OS defeated Symbian (in 2011) and never looked back since. During the 2nd quarter of 2016, almost three hundred million droids were shipped all over the world (296,91m) compared to just ~2 million WP devices and 44.4 million iPhones, while BlackBerry managed a meager 400,000 units delivered world-wide. Compare these figures with 2009's 20.88 million of Symbians, 7.78 million of BlackBerries, 5.33 million iPhones and 3.83 million units of Windows Mobile vs 760,000 droids shipped in 2009's Q2 and you'll see history in the making.
All these figures are really fascinating if you think about how quick the mobile world has changed during a 6-7 years window. Also, it's pretty interesting to notice the fact that Motorola's DROID and the Nexus One, which hit the world in 2009-2010 marked the beginning of the Android revolution, with shipments soaring from 760,000 to 5 million then almost 11 million during 2010's Q2.