Samsung Galaxy Grand Prime gets Wi-Fi certification, could launch soon!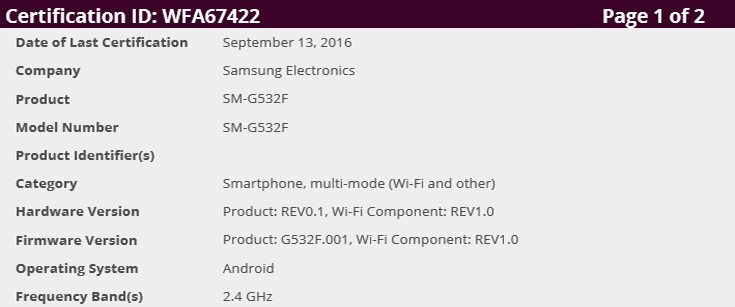 Samsung's Galaxy Grand phones were quite successful back in the day. That was until the launch of the Chinese smartphones in India. It all started with the Xiaomi Mi3, which blasted away all its competitors. Then came the cavalry of other Chinese smartphone makers like Huawei, Asus, Lenovo, Gionee, Oppo, Vivo, OnePlus and others. It is not looking good for them with the Galaxy Note7 recall and an earthquake in South Korea that has caused them to temporarily halt their smartphone production. Will they get back on track with the Samsung Galaxy Grand Prime?
We don't have much info about the specifications of the Samsung Galaxy Grand Prime. But we do know about the processor and memory. And it does not look good for Samsung. They are not planning to move along with changing times and it will surely hurt them bad.
The processor is a 1.4GHz quad-core processor and it is coupled with a measly 1.5GB of RAM. The phone will be boot from Android 6.0.1 Marshmallow, but it will most probably stay at that considering the specs of the phone.
So, if you're planning to experience Nougat on a budget, this phone may not be the one for you. Apart from the processor and memory, we don't have anything else about the Samsung Galaxy Grand Prime. The phone will have a model number, SM-G532F and will only flaunt budget specs.
The Samsung Galaxy Grand Prime 2016 version will definitely not have a launch event and maybe silently listed on their website soon. The complete list of specifications and the price of the phone is most likely to come out soon. The company is trying really hard to recuperate from their losses surrounding the Galaxy Note7 and this phone may not be the helping hand they were looking for.
via – Phonearena
Source