Sony Xperia X Compact Now Available for Pre Order on Amazon at $499,99 Unlocked + $50 Amazon Credit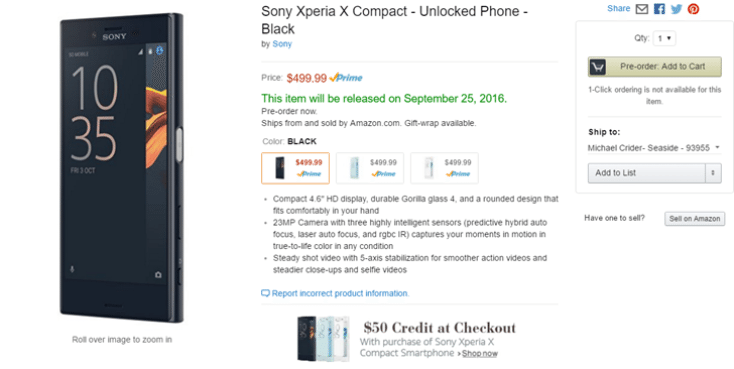 If you want to put your greedy little hands on a brand new, unlocked and loaded (really, you get $50 of Amazon credit on top) Sony Xperia X Compact, droid-lovers rejoice, because starting from like, now, you can pre-order your precious for $500, courtesy of Amazon.com. If you're that kind of a person who doesn't really enjoy having a smartphone the size of a frying pan, you'll probably go for the Xperia X Compact like a dog is chasing meat trucks. Basically,if you're looking for a tough droid with solid specs and a screen real estate of under 5 inches, you're facing mission impossible.
But that will be soon a thing of the past, as per today's deal you can get a Sony Xperia X Compact to soothe your pain and anger. Thing is, the Japanese tech giant seems to be the last of the mohicans when it comes to manufacturing decently sized smartphones that are packing a lot of heat inside, hardware wise. Unlike in the past, when having the smallest feature-phone was a sign of prosperity and amazing coolness , now you get social status among nerds (but no chicks) having the biggest smartphone in the hood.
Rant aside, Amazon started taking pre-orders for the Sony Xperia X Compact for $500 a pop, including $50 of Amazon credit. The droid comes in white, black and light blue colorways and the best thing is that you can use your Amazon credit at checkout, meaning that you'll have to pay $449,99 for your X Compact at the end of the day. Deliveries will begin next Sunday, on September 25th.
The American version of the Sony Xperia X Compact  works on any GSM carrier (AT&T, T-Mobile) and it features a 4.6" display of HD/720p resolution, a QSD 650 system on chip, 3 GB of RAM, 32 GB of native storage capacity expandable via micro SD, a 23 MP main snapper, a USB Type C port and a 2700 mAh battery, running Android 6.0 out of the box.