The Pebble Time Round Now on Sale on Amazon for $134 ($65 Off MSRP)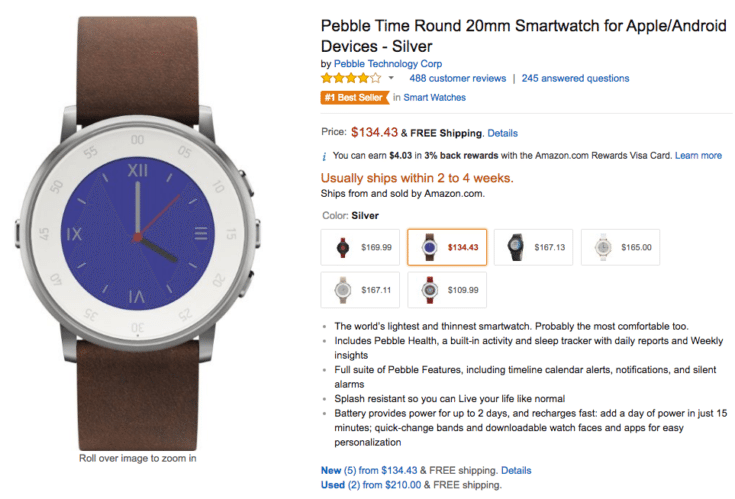 If you're looking to buy a classy smartwatch, today's hot deal comes from Amazon in the shape and form of a Pebble Time Round, which retails for $134, meaning that you'll save a cool $65 in the process. If you're from the US, you'll also get free shipping. In case you're not familiar with the brand, Pebble smartwatches were among the first to hit the market, even before Android Wear came into play.
The idea is that as far as innovation goes, Pebble is one of the best in the business and their smartwatches are running with the best in the industry. At $134, the Pebble Time Round offers great value for the price asked, considering its original retail price of almost two hundred bucks. The Pebble Time Round is a great wearable if you're into watches that talk back at you and it would make for a great gift idea with the holidays coming and all that. From my personal experience, the best deals are to be found in October-November and January-February, whilst December is a no-no.
Now, getting back to the Pebble Time Round, the smartwatch boasts its elegant design and lots of nifty features. This particular silver variant Amazon has on sale currently looks very nice and it can successfully replace your current timepiece, i.e. it doesn't look like a nerd-watch at all. The display is a circular always-on E-Paper variety and the battery will last you for approximately two days. The Pebble Time Round features step and sleep tracking and you can download tons of watch faces if you want to customize the look of your wearable, to make it unique and the whole nine yards.
Unlike other smartwatches, this baby doesn't offer a touchscreen and it doesn't have GPS or NFC. However, if you're looking for an elegant, classy-looking piece of gear which looks like a regular timepiece, the Pebble Time Round is an excellent option.
via – Android Police