Samsung's Latest 8GB LPDDR4 RAM Modules Will Revolutionize Smartphones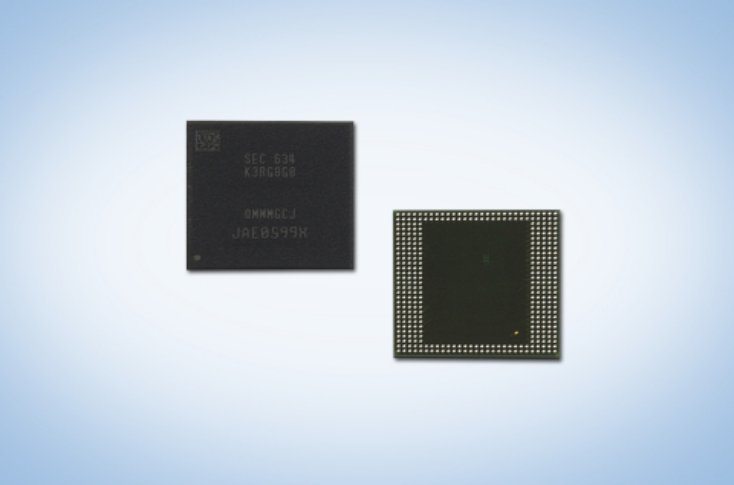 Samsung is the biggest smartphone manufacturer in the world by a wide margin, but few people know that the Korean tech giant is also one of the global leaders when it comes to manufacturing memories, semiconductors, AMOLED/LED displays and microprocessors (read Exynos). Samsung made SSDs (solid state disks), RAM modules and displays are found everywhere, in laptops, TV sets and smartphones. For example, Samsung-made displays and LPDDR4 RAM modules are used in almost every brand of smartphone, ranging from Apple to HTC or Motorola.
Now, today's good news is that Samsung just announced its latest high-end 8GB LPDDR4 RAM module, a package just 1 millimeter thick . With this RAM package, 8 GB smartphones will soon become the new normal, due to the fact that this memory module saves a lot of space on the smartphone's motherboard, allowing it to be integrated perfectly with a mobile application CPU or an UFS memory.
The new memory module from Samsung is built with the company's latest LPDDR4 memory chips, which are using the state of the art 10 nm process, meaning that these memory modules are twice as fast than regular DDR4 RAM for PCs/laptops, offering transfer speeds of 4.2 MB/second. And using such a beastly RAM inside of a smartphone will translate into all sorts of benefits, ranging from a better overall user experience due to improved virtual machine operation to smoother video playback, especially when it comes to UHD/4k videos. Also, apps and games will load faster, whilst the smartphone's autonomy will not suffer, due to the 10 nm manufacturing process, which has basically the same power consumption as the old 20 nm 4GB DRAM module, despite the dramatic increase in performance.
As I am writing this piece, we don't know for sure when the 8GB LPDDR4 RAM module from Samsung will hit mass production, but it's a matter of months most probably. And when it will happen, sooner or later, flagship smartphones will have basically the same RAM amount as high-end laptops and just as fast if not faster.