Alcatel Idol 4S Leaks via T-Mobile Training Guide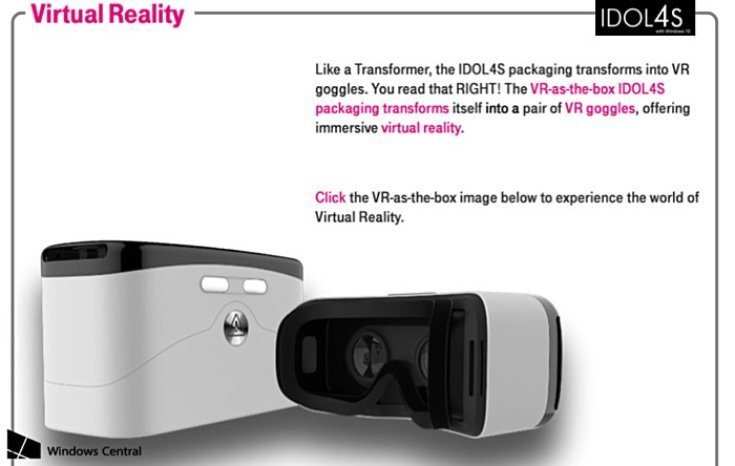 Today's piece of leaked intel is about the upcoming Windows Phone 10 running Alcatel Idol 4S. The smartphone leaked courtesy of a T-Mobile training guide which shows off the packaging which is basically a Virtual Reality headset and that's pretty interesting to say the least. However, it comes as no surprise the fact that the Alcatel Idol 4S will come with a free VR headset in its retail bundle, it's just the cool idea of packaging which is very avangarde to say the least.
Judging from the T-Mobile's training guide, the WP 10 running Alcatel Idol 4S is set up for an imminent launch and today's leak not only confirms previously rumored specs, but also compares the Alcatel Idol 4S with the likes of Samsung Galaxy S7 and the iPhone 7, meaning that Alcatel has lost its mind. In case you're wondering what I am talking about, just take a look at the picture below and read the "competitive comparison" thing. I mean seriously Alcatel, your WP 10 running Idol 4S can be compared  with flagships like the iPhone 7 or the Galaxy S7? In what regard?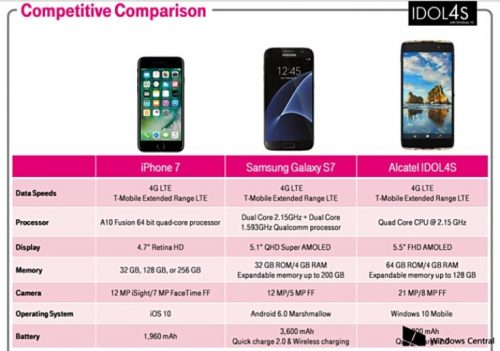 Now, on a more serious note, the leaked guide also reveals the clever packaging idea of the Alcatel Idol 4S. The box which contains the smartphone transforms into a free Virtual Reality headset after unpacking it, a thing that we've already known (the free VR) but the implementation of the respective idea is very original and "out of the box" (pun intended). I mean, having a retail box which transforms into Virtual Reality goggles may very well be reason enough for me to buy the Alcatel Idol 4S, as I'm a declared fanboy with regard to Windows Phone running devices.
Unfortunately, there's no available information about the pricing or the official launching date. Considering the OS, the App ecosystem (or the lack thereof) and the brand, pricing is a key factor which may make or break the Alcatel Idol 4S. Stay tuned.