Obi Worldphone MV1 Review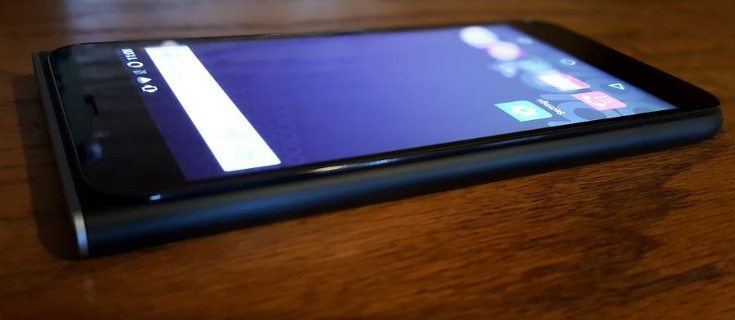 Over the years, we have covered plenty of brands from around the globe here at Phonesreview.co.uk. Now it's time to turn our attention to a real globetrotting device with our Obi Worldphone MV1 review.
Design
We have always appreciated smartphones that stand out from the pack, and the Obi Worldphone MV1 definitely accomplishes that. It doesn't look like any other Android handset we have come across, and that's a good thing in the sea of lookalike devices.
The chassis of the Obi Worldphone MV1 is made from steel, so it's going to be sturdy and feels like it. That said, it is a bit on the small side measuring 145.6mm x 72.6mm x 8.85mm. It weighs 148grams with the battery installed, and while the body is of the polycarbonate variety, it looks classy. You will also get a removable back panel that allows you to remove the battery if needed.
The model we used in our Obi Worldphone MV1 review had a nice clean matte black finish with the only marking coming in the form of their logo on the back. The top of the device tells a different story however as the MV1 has a metal strip across the top and is squared off compared to the bottom which is rounded. It's interesting, but not nearly as interesting as the display.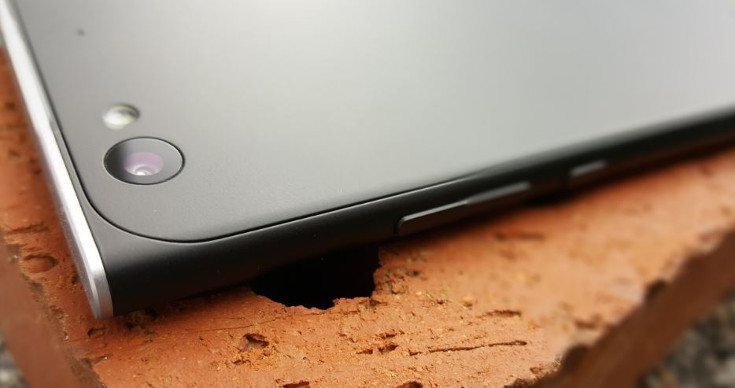 Display
Obi uses what they refer to as a "floating display" on the MV1. That means the display actually sits above the frame – something you don't see every day. It does give the handset a unique look and should be relatively tough thanks to Gorilla Glass 3. The company opted for an Oleophobic Coating to help with smudges as well.
As for the tech behind the glass, the smartphone has a 5-inch IPS display with a resolution of 1,280 x 720 and a nice pixel density of 294 ppi on the smaller panel. It's not the sharpest 720p display we've come across when testing similar devices in this class, but it's far from mediocre with bright colors and performs better than most in direct sunlight – a major plus. Despite that floating layer, it also took a few drops with ease.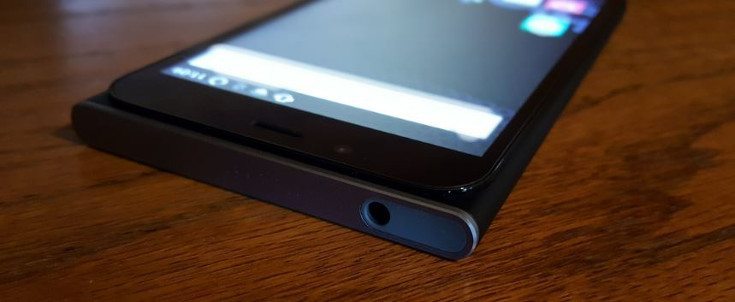 Software
The Obi Worldphone MV1 ships with CyanogenMod OS 12.11, which is based on Android 5.1.1. Needless to say, if you're new to the world of ROM's, it feels like Android so no worries there. The first thing you'll probably notice is how the app drawer scrolls down, and that's just the tip of the iceberg when compared to vanilla or bloated Android.
Another perk of having CyanogenMod are the tweaks. You can adjust a wide variety of things on the Worldphone from the number of icons you can have on the screen to the notification lights. While some of these features can be found in launchers from the Play Store, but it's nice to have them baked in and available out of the box.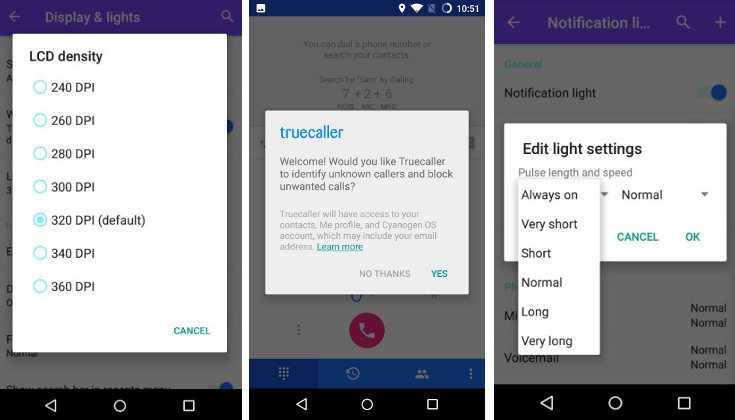 The MV1 comes with a couple of pre-installed themes out of the box and has an App Themer and Theme Store to peruse. There are around 80 free themes to choose from and double that amount in paid themes. There are several security features baked in as well including Pin Scramble and Privacy Guard just to name a few. Obi's own Lifespeed UI is preloaded but looks good and is easy to work with.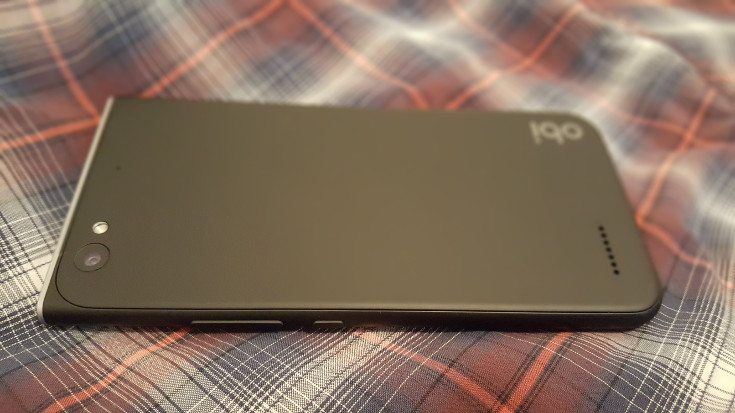 Specifications & Performance
When it comes to power, there's enough to get the job done in most cases, but don't expect a race car under the hood. The MV1 comes with a Snapdragon 212, which is a quad-core chip clocked at 1.3GHz. The version used in our Obi Worldphone MV1 review was the 2GB model with 16GB of RAM whereas the Android 5.1 Lollipop version only comes with 1GB of RAM and 16GB of storage. Both are expandable through a microSD card slot, which can be found beneath the back plate.
When it comes to gaming, it's a mixed bag. If you want to get down with a heavy game from Gameloft of GLU, you may experience some lag… it's not built to be a gaming machine. That being said, casual gamers will have no issues playing Candy Crush, Crash Royale or most games for hours on end but the mileage will vary by the title. The benchmark scores below quickly let you know where this one stands in the gaming landscape…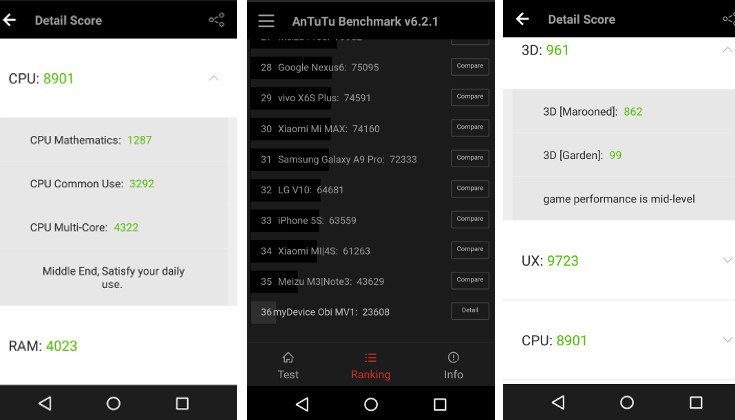 Cameras
When dealing with mid-range or even flagship devices, cameras can be an issue. The standard is around 16MP on flagships, while most mid-range devices come with 13MP sensors on the back. Well, the Obi Worldphone MV1 isn't quite up to speed with an 8MP rear camera sporting an LED flash while the front-facing camera is listed at 2MP.
As with many cameras, how good your photos come out depends on the skill of the photographer to a degree along with the software. While the 8MP sensor isn't that strong, it took solid photographs as you can see from the samples below. It can do 1080p video at 30fps as well and performs about as you would expect in this area.
The usual software tweaks are included so you will be able to add a bit more pop to your selfies or snap some HDR photos on the fly. Below are our samples with no added effects.
Battery Life & Connectivity
The Obi Worldphone MV1 has a 2,500mAh battery under the hood, which is about on par for the class. It's rated to get close to 16 hours' worth of talk time or 13 hours on standby . As a daily driver with light to normal usage it should get you through the day, but if you are a heavy user or game frequently, it's probably not going to be as pleasant.
Playing certain games and multitasking took a toll on this one as it will most handsets. In the tests for our Obi Worldphone MV1 review, we treated it like an 8 hour day and were able to browse the web, make calls and texts, etc… with no problem. When we threw a couple of hours of serious gaming into the mix, the battery life took a nosedive. That said, the battery will be sufficient for most users and it's swappable, so it only takes seconds to pop in a fresh battery.
All the usual suspects are present in the connectivity department for the handset including Bluetooth 4.1, A-GPS/GLONASS, Wi-Fi and Dual Micro SIM slots. As it's a global phone, here are the bands…
GSM/WCDMA/HSPA+/LTE
Europe, South East Asia, Middle East, Africa
GSM: 850/900/1800/1900 MHz
WCDMA: 850/900/1900/2100 MHz
4G LTE: FDD B1/3/5/7/20
TDD B38/40/B41
Latin America
GSM: 850/1800/1900 MHz
WCDMA: 850/1700/1800/1900/2100 MHz
4G LTE B2/3/4/7/28A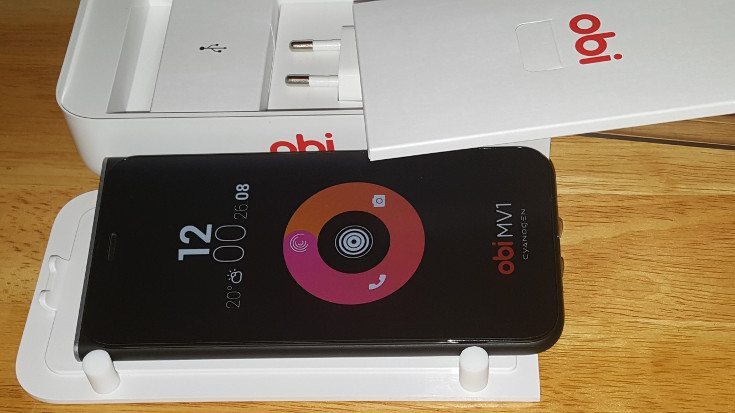 Verdict
The Worldphone MV1 is an interesting handset and Obi almost pulled off what they were shooting for which is a blend of design and performance. We liked the style of the smartphone, and it feels good in the hand… it definitely does not feel cheap by any means. The display and cameras were "solid" but the snappers were a little underwhelming compared to other smartphones in its class. They aren't bad but we would have liked to see a better camera combo to go with the slick style.
The actual performance is the only real area that may be of concern for some users as peppy is a word best used to describe the horsepower. As mentioned, it will perform fine if you just want a daily driver for web browsing, casual gameplay, texting and the usual functions. If you need something with a bit more pop, you may need to turn elsewhere as this one will can struggle on high-end games.
The Obi Worldphone MV1 is a smartphone that ticks all the right boxes when it comes to design. While its a bit underpowered, the current Worldphone MV1 price makes it an option as it's much more affordable at the time of our review than when it initially landed. The MV1 is currently available to purchase through Amazon UK in Black or White for £99/$121 or for £9.50 per month for the Phone/SIM Only Tariff.