Amazon Sells the Fossil Q Founder Smartwatch for $189,99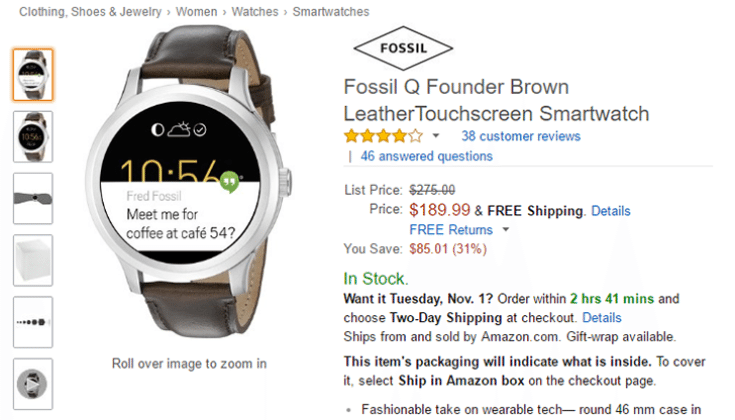 If you're into smartwatches, today's deal is pretty sweet, as Amazon just shaved $85 from the regular price of the Fossil Q Founder Smartwatch, which can be yours for only $190. This translates into a 31% discount and that's a lot of money folks, at least in my neck of the woods. I know what you're probably thinking: this smartwatch is yesterday's news, as it's one year old and the whole palaver.
However, you should  be aware of the fact that the Fossil Q Founder Smartwatch is the first wearable ever produced by a regular watch maker. And that makes it potentially a collectible item, have you ever contemplated the possibility? But that's not why I like today's hot deal folks. At this price, it's relatively impossible to get a cooler smartwatch, both in term of design and build quality, not to mention functionality.
For $190, the Fossil Q Founder Smartwatch comes with a beautiful leather wrist band, a round 1.5 inches wide LCD touchscreen with a resolution of 360×326 pixels/240 pixels per inch density, IP 67 certification which means dust and water proofing and a 400 mAh battery to keep the lights on for a couple of days, depending upon how heavy you're pushing its "buttons".  As per the hardware platform,  the Fossil Q Founder runs on an Intel Atom Z34XX CPU, which is pretty snappy in its class. There's also Wi-Fi and Bluetooth 4.1 on board, together with Qi wireless charging compatibility.
But the most important thing about this baby is that it looks like a real timepiece, i.e. it's not a geek's wet dream. Despite being relatively large, the fit is excellent and the Fossil Q Founder shares quite a lot in terms of design with Fossil's regular timepieces. Overall, this is arguably the best designed wearable available today in its price bracket, being an attractive and complex smartwatch with a premium look and feel.