WP 10 Alcatel Idol 4S Available on T-Mobile from November 10th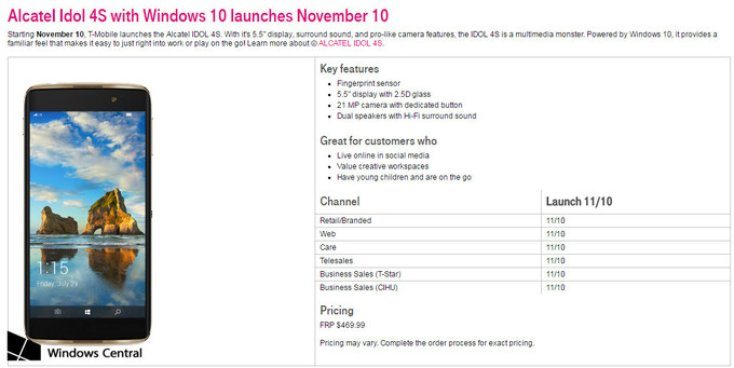 If you're seeking for a competent Windows 10 running smartphone, T-Mobile just made your day, as the US based carrier announced (via proxy) the latest WP 10 running Alcatel Idol 4S to arrive in their stores starting with November 10th. I know what some of you are thinking already, WP 10 is a dead/dying mobile OS and there's no point in trying to revive it. Also, T-Mobile trolled their customers, as they recently listed the Idol 4S on their official website just a few days ago, but they later removed it and kept very hush-hush about the WP 10 Alcatel Idol 4S's official release date.
Well, until now, because today we know for sure when the aforementioned smartphone will be launched, though the intel doesn't come from "official" "triple-checked" sources. Windows Central claims that they know everything about the Alcatel Idol 4S, including the official launching date via T-Mobile, including the price tag which is supposedly $469,99 (unlocked/SIM free).
Truth be told, if you take a look at the tech specs, the Alcatel Idol 4S plays in the best bang for the buck category, being a real bargain for the money asked. In terms of design, the WP 10 running Alcatel Idol 4S looks very much like its Android based brethren, but some of the features are improved, fortunately. The WP 10 running Alcatel Idol 4S comes with a full HD 1080p 5.5" wide display and it runs on a state of the art Qualcomm Snapdragon 820 system on chip, with 4 gigabytes of RAM and 64 GB of native storage capacity.
There's also a 3000 mAh battery for keeping the lights on, a finger print sensor, a 21MP/8MP camera-combo and even a dedicated camera button, which helps a lot with taking pics fast in peculiar positions. As I am writing this piece, T-Mobile has no WP running device in its portfolio, but that's hardly a surprise considering the 1,7% market share of WP 10. Let's hope things are a changing with the Alcatel Idol 4S.
source: Windows Central