9 out of 10 Smartphones Shipped in Q3 2016 Were Running Android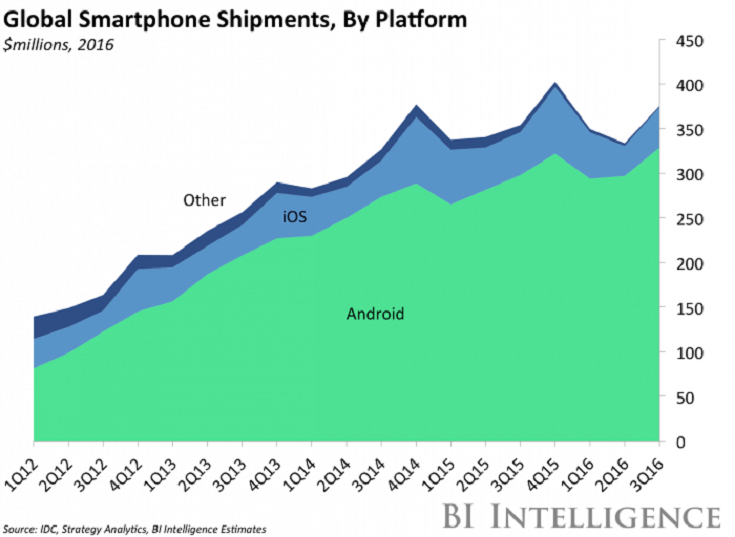 If you're an Android aficionado, today's news will put a big grin on your face, as we just got word that almost 90 percent or 9 out of ten smartphones shipped in Q3 of 2016 were Android running devices. Truth be told, this is hardly a surprise for our regular readers, but 2016 may very well end up as the best year ever in Android history. Which actually seems to be the case every other year now.
According to the latest data provided by Strategy Analytics, out of 375 million smartphones shipped in Q3 of 2016, 88% were Android running devices, thus breaking all the previous records for Google's mobile operating system/ecosystem or whatever you want to call it. Strategy Analytics are a well established research company from the United States, with their headquarters in Boston, Massachusetts, i.e their word really counts.
The biggest boost in Android running devices's sales figures came from the emerging markets, as usual, the likes of South Africa, India and even China. Obviously, folks living there are not quite fond of $800 smartphones and they chose to ignore Apple's latest iPhone 7 (or 6 by that matter), thus gravitating towards affordable low-mid ranged devices, which are plenty in a droid dominated world. As a result, Apple's iOS world-wide market share dropped to just 12%, with the vast majority of users being located in North America and Europe.
Strategy Analytics also predicted that this trend will continue in 2017 and even beyond that point in time, which translates into horrible news for Apple and Microsoft. The only problem in their vision is how sustainable the trend will prove to be for the literally dozens of OEMs that build low end/mid range droids, as their profit margins are relatively small and the competition out there is fierce, especially in the low end segment. Let me quote directly from Woody Oh, one of Strategy Analytics's directors:
"However, several challenges remain for Google. The Android platform is getting overcrowded with hundreds of manufacturers, few Android device vendors make profits, and Google's new Pixel range is attacking its own hardware partners that made Android popular in the first place."
Source Strategy Analytics