Buy a Gold Plated Trump iPhone and MAGA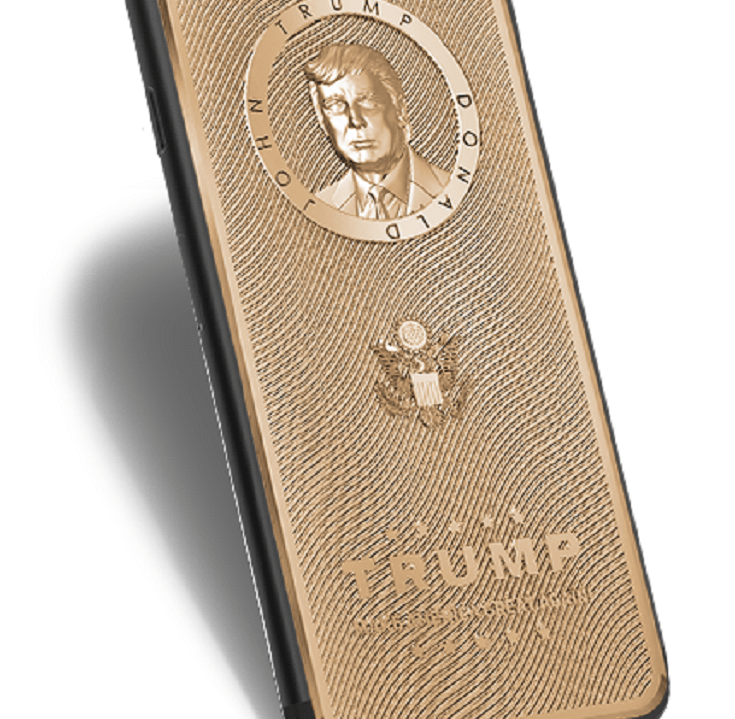 If you're a Donald Trump fan and you want to make America great again, you can signal your Trumpian virtues by acquiring a gold plated Trump iPhone. This baby is manufactured by the same company that delighted the Russian oligarchs with the gold-plated Putin iPhone. Truth be told, I really feel sorry for myself that I'm not rich enough, as these two golden iPhones would make for the perfect pair  as far as collectible gadgets go, don't you think comrades?
So, as per recent news, president elect Donald Jesus Trump really delivered a shock to liberal American voters, but this gold plated iPhone boasting Trump's effigy in solid gold will probably spark more controversy among rich folks than the election itself, at least in this writer's opinion. I mean, just imagine a high-end party somewhere in Beverly Hills, a phone ringing and Clint Eastwood reaching into his pocket and showing off his solid gold Trump iPhone. It would be a massive jaw dropper, isn't it?
So, just for trolling purposes and MAGA, buying the gold plated Trump iPhone may be the best decision you've ever made, provided you can afford the price tag. Because greatness doesn't come cheap, you know? The Trump iPhone may be the straw that broke the camel's back with regard to Californians trying to secede from the mother land and it also comes with a ridiculous price: no more and no less than 3040 capitalist American dollars. I bet this iPhone will do well among rich Texans and Russian oligarchs.
A very interesting factoid with regard to the Trump iPhone is that it comes ~$200 cheaper than its Putin sibling. This deal sounds good, it's so amazing,you wouldn't believe it, right folks? This piece of high tech trolling/engineering is manufactured by an Italian-Russian joint venture called Caviar and if I can make a wish upon a star for Christmas, this is what I'd like!
source: Caviar