UMi-BTS3 Bluetooth Speaker Review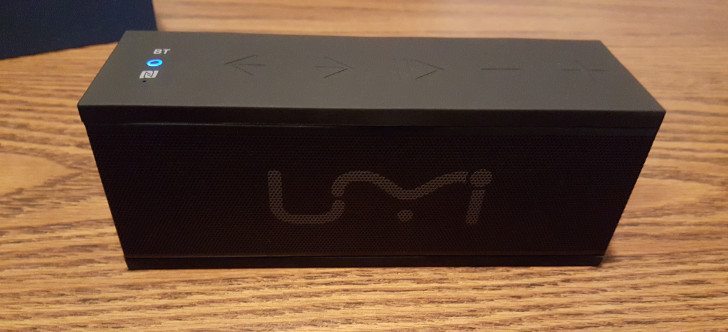 UMi is a brand we've covered plenty of times in terms of smartphones, but they also do accessories like the UMi-BTS3 Bluetooth Speaker. We spent several weeks putting the little boom box through the ringer and are back with our UMi-BTS3 Bluetooth Speaker review.
Design
It's a rectangle! We've seen some odd speaker shapes from balls and light-up cylinders to light bulbs that can pound out the sound. UMi went rectangular with the UMi-BTS3 Bluetooth Speaker and it works. The speaker features that soft-touch rubbery material on the top and bottom along with a few raised nubs for feet. It's going to attract some lint, but it looks good and the material makes it easier to handle.
The front of the Bluetooth speaker sports a brushed aluminum grill that wraps all the way around the little box. It has a seamless appearance until you get to the back where the rear panel is in place. You can see a hint of the speakers behind the grill as well which is a nice touch. I had several pals actually try to peer into the grill when they see a glimpse of the cone inside.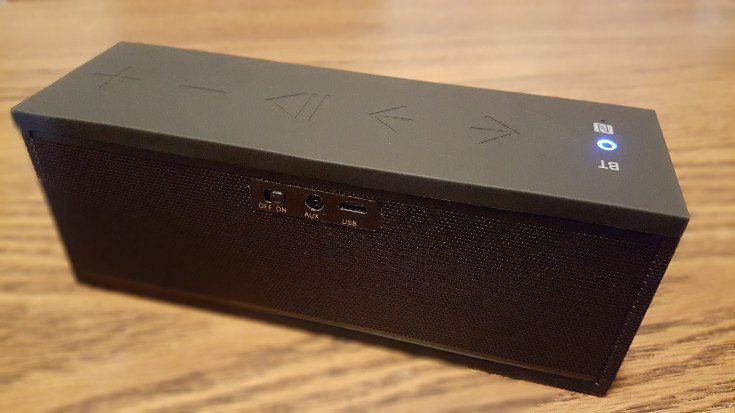 Sound Quality
While you shouldn't expect Bose style sound from the UMi-BTS3 Bluetooth Speaker, it performs admirably. We put our Google Play Music to work and blasted everything from Marvin Gay and Chance the Rapper to The Highwaymen and Nina Simone. Everything sounded great as unless you cranked it up too far.
The sound quality will degrade or distort the higher you go with the volume, but that's to be expected. If you keep it at a "normal" level that doesn't make dogs howl it sounds quite good and will still hold it down when you kick it up a few additional notches. You can power a portable party with the unit, so no worries there as the Dual 5W drivers should do the trick for smaller gatherings or personal use.
How far you are from the speaker will obviously affect your sound quality as well. The UMi-BTS3 Bluetooth Speaker is rated to go around 33-feet, which is about right although we didn't pull out a tape to check the distance. It performed much better outdoors than indoors as you would expect, just keep your fingers crossed after around 28-feet and don't shut too many doors if you are inside.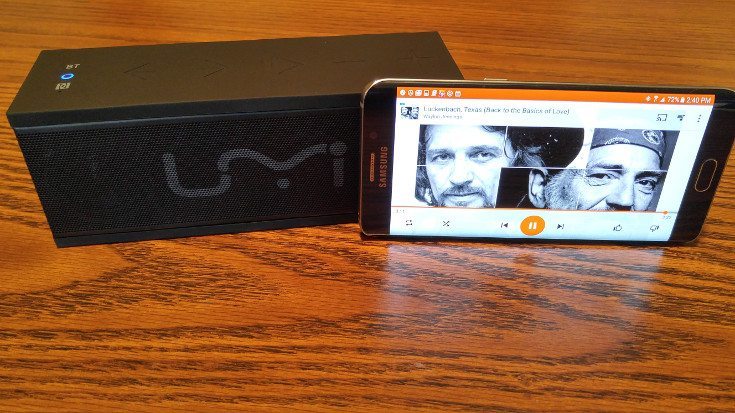 Features
The controls for the UMi-BTS3 Bluetooth Speaker are set on the top of the box, which allows you to carry it around and adjust the volume or skip tracks sans the smartphone as long as you are synced. As for the hook-up, you'll do this through Bluetooth 4.1 or NFC. Connecting with Bluetooth is just as painless as it should be, which means you just need to pair your device, select some tunes and you are in business.
With NFC, it was a little trickier due to the manual and depending on your handset. You'll need to open and connect with Bluetooth, then open up NFC. Once you've made the initial connection, the handset should automatically sync through NFC when you tap it to the top of the speaker. On the Galaxy S6 Edge and LG G5 it was easy, other handsets not so much… it's going to vary. If you are sans Bluetooth or NFC, there is a 3.5mm audio jack on the back that can be used with the included cable.
The UMi-BTS3 Bluetooth Speaker also has a slick speakerphone function. When a call comes in you will be able to take it through the box thanks to a built-in mic. The battery is listed at 2,600mAh and is "capable" of 24-hours of playback on a charge at 50% volume. As you would expect, the mileage will vary depending on your usage. We were able to go a solid 6-8 at higher volume levels before our test model finally went dry.
Tech Specs
Output Power: 10W (5W x 2)
S/N: 75dB Frequency Response
2,600mAh lithium ion battery
Line-in, Microphone, Bluetooth 4.1, NFC
180mm x 56mm x 69mm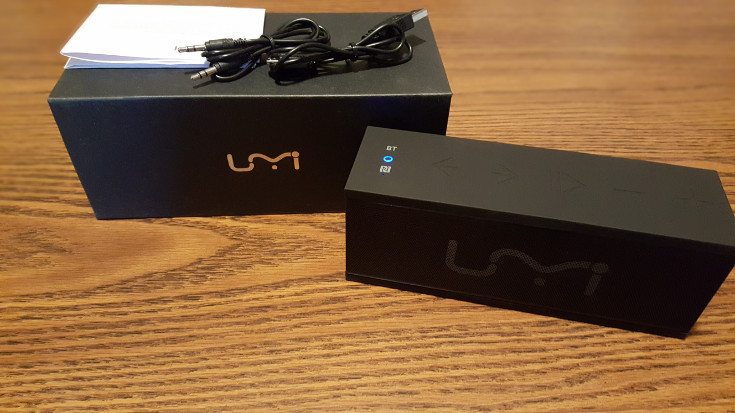 Verdict
There are scores of portable Bluetooth Speakers on the market, and more roll out every month. The UMi-BTS3 Bluetooth Speaker is one of the better ones we've come across, especially considering its price. It will be a little hefty for some folks at 1.3 lbs or 550grams, but still leaves a small footprint. The large controls buttons were a plus and the design is easy on the eyes as well. On the flipside, the NFC feature was a little finicky in our tests and the range isn't the best we've seen but far from the worst.
In a nutshell, we recommended the UMi-BTS3 Bluetooth Speaker as a "Buy" due to the price and overall sound quality. You will be hard pressed to find a speaker for $35 that's sounds this good at high volumes and the speaker phone function is pretty handy as well. If you're looking to purchase the UMi-BTS3, you can scoop it up through Amazon at the links below.