Xiaomi Mi Mix Nano specifications leak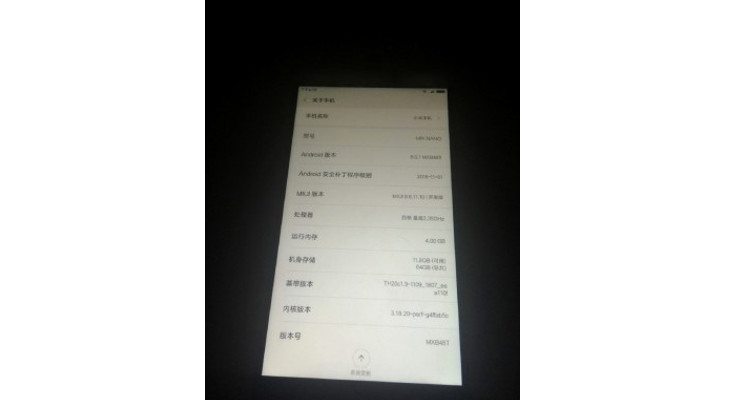 What a difference a day makes. Just yesterday we showed you photos of a Xiaomi Mi Mix variant, and now a new leak has confirmed the Xiaomi Mi Mix Nano specifications ahead of a formal announcement.
Where there is smoke, there is usually fire. With some handsets, we will see a leak and not hear from it again for months. Sometimes they vanish to never appear again, but that will not be the case with the Xiaomi Mi Mix Nano. A new photo has shown the handset powered up and focuses on its "About" section. That means we can confirm a few of the Xiaomi Mi Mix Nano specs which leaked yesterday.
According to the leaked screenshot, the Xiaomi Mi Mix Nano will indeed sport a Snapdragon 821 under the hood with 4GB of RAM. The storage is listed a 64GB while the display will be 5.5-inches as the previous rumor specified. If true, that means it is more or less the base model of the Mix with a smaller panel and less storage. We have to assume the cameras and other features will stay the same although that remains to be seen.
If the Xiaomi Mi Mix gets a wider launch, you can bet it will be popular everywhere it lands. The large size will turn some folks away despite the edgeless panel which makes the Xiaomi Mi Mix Nano all the more appealing. Needless to say, we will keep you in the loop on this one as more details come to light.
Would you like to see the Xiaomi Mi Mix Nano come to your region?
via – Gizchina