Samsung Galaxy C7 Pro gets Benchmarked with Snapdragon 625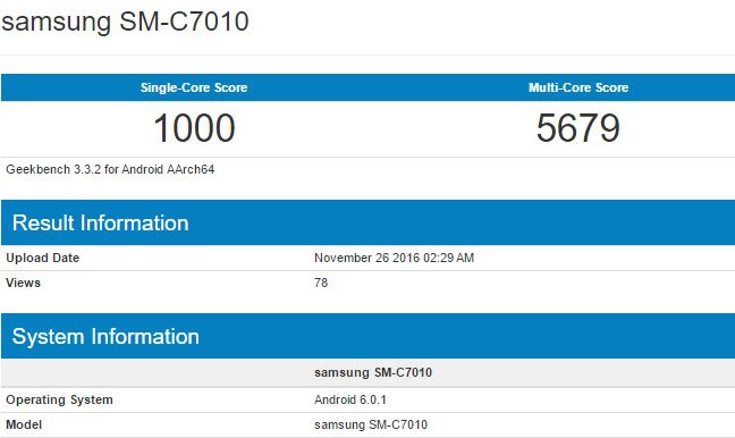 If you are a fan of Samsung, there is never a shortage of new phones to consider. The Samsung Galaxy C7 Pro may be one of the next smartphones to debut from the company, and we've just gotten a quick look under the hood thanks to Geekbench.
The Samsung Galaxy C7 Pro is a bit of an oddity in the world of smartphone leaks. We haven't heard too much about the handset until today although it did get imported into India for testing recently. Zaubu gave us a few details on the Samsung Galaxy C7 Pro specifications, but they were light to say the least. The same can be said of the new Geekbench listing although we do know what the C7 Pro will have under the hood now.
According to the Geekbench listing, the Samsung Galaxy C7 Pro sports the model number SM-C7010 and its power comes from a Snapdragon 625. That puts it in the mid-range class as far as SoC's are concerned although this one will get a nice bump from 4GB of RAM. It was tested running Android 6.0.1, but that's all we've learned from this listing. If the India import specs pan out, it will be in the phablet range with a 5.7-inch panel sporting a resolution of 1,920 x 1,080.
Considering the Samsung Galaxy C7 Pro hit India last month and is just now rolling through Geekbench, we may see a formal release soon. You shouldn't expect anything groundbreaking, but it could be one to watch if Sammy can keep the cost down and it sees a wide release.
via – Phonearena     source: Geekbench