Samsung Galaxy S7 On Sale at Cricket Wireless for Only $324.99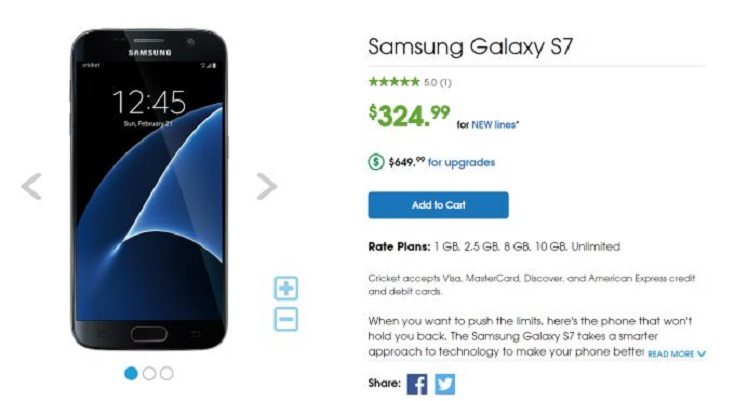 With Cyber Monday all over us, it seems like great deals are everywhere and as far as good deals go, Cricket Wireless is selling the Samsung Galaxy S7 for only $324,99. Besides that, AT&T offers a free  Gear VR headset and a $250 gift card if you buy the Samsung Galaxy S7 from them on a monthly installment plan via Best Buy. There are also great deals on eBay for the  Samsung Galaxy S7/S7 Edge in their unlocked/dual sim versions.
But Cricket Wireless has the best price so far for the Samsung Galaxy S7. All you have to do is to sign up for a new line with the carrier and you'll get the S7 at a juicy 50% discount vs its current retail price. The Samsung Galaxy S7 still is one of the best droids out there, even if it was launched earlier this year and it's as hot as it gets. Even if you'll have to sign up for a new line with Cricket Wireless, there are basically no restrictions as far as I can determine with regard to canceling your contract at any given time if one so desires. Also, keep in mind that the device in question is the AT&T version of the Samsung Galaxy S7.
Considering the heavy discount, you must be aware of the fact that the deal is limited, as there's only a limited amount of smartphones available, so if you think that the S7 is worth $324, go get yours while it lasts. Just as a quick reminder, the Galaxy S7 comes with an amazing quad HD super AMOLED display, 5.1 inches wide and it runs on a high end Qualcomm/Exynos chipset with 4 GB of RAM, 32 GB of storage, a 12 MP high-quality camera wich is amazing in low light, a 3000 mAh battery and, check this out: IP 68 certification, meaning it's water/dust resistant. It doesn't get any better than that, what do you think?
Source: Cricket   Via Phonearena