Hisense A2 specifications include E-ink display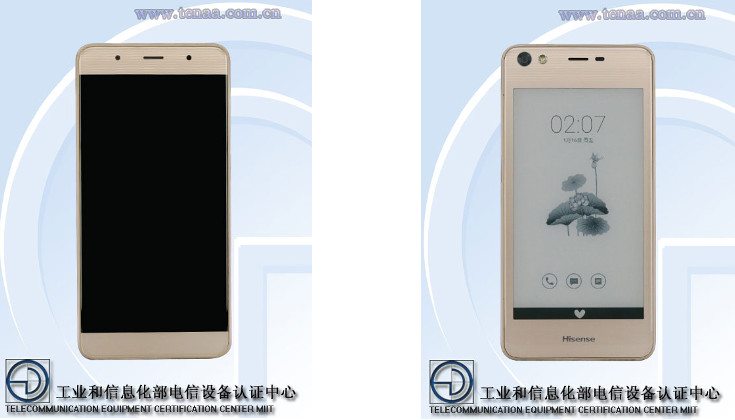 It's been rather quiet on the E-ink from aside from the YotaPhone 2. The Hisense A2 specifications show the trend isn't quite dead yet as it has leaked giving us a look at an E-ink display.
Hisense isn't a brand we cover often, but they have been producing various types of tech for years. That includes handsets although it is safe to say we did not see the Hisense A2 specifications coming. While the E-ink display is cool, it is definitely niche so you'll be pleased to know the handset also has some pop. It isn't on the flagship level although it is not too far off either…
According to good old TENAA, the Hisense A2 will be in the phablet range with a 5.5-inch Super AMOLED display. It has a resolution of 1,920 x 1,080 while the back panel sports a 5.2-inch e-ink display with a resolution of 960 x 540. Between those two panels, you will find a speedy octa-core processor clocked at 1.4GHz and a whopping 4GB of RAM.
When it comes to storage, the Hisense A2 will have plenty out of the box. It has 64GB of storage which is further expandable through the microSD card slot. The rear camera is also more than sufficient at 16MP and has an LED flash while the front-facing camera is listed at 5MP. Connectivity options include a fingerprint scanner on the power button (located on the side), Wi-Fi, Bluetooth, GPS, 4G VoLTE and all the usual bells & whistles. A 3,000mAH battery will power the show while Android 6.0.1 takes care of the legwork.
The Hisense A2 specifications are sound and the E-ink secondary display is the icing on the cake. While it is not something everyone will want, it could find some new fans if the company keep the price right. We have no idea when this one will launch but will keep you in the loop as we learn more.