Nicki Minaj the Empire game arrives for Android and iOS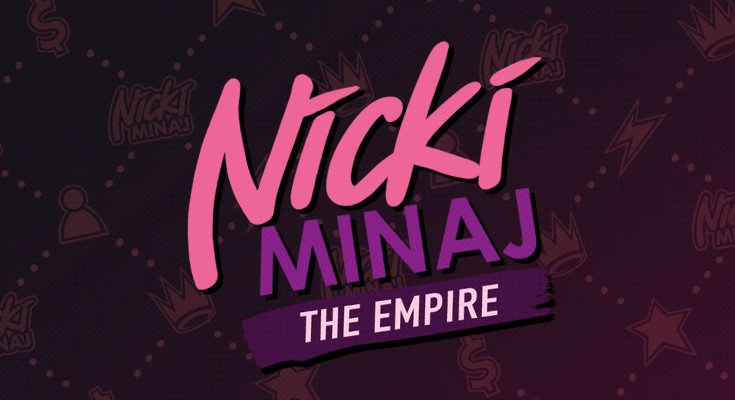 If you have longed for the day Nicki Minaj would get an official mobile title, that day has arrived. The Nicki Minaj the Empire game is official and a creation of Glu, a developer that knows a thing or two about celebrity-based games.
There was a time when Glu made titles hardcore gamers could sink their teeth into. Well, money talks and people are spending serious cash on games like Kim Kardashian Hollywood and Kendall/Kylie. As Nicki tells you in her video intro, the Nicki Minaj Empire game has more going on for it than the Kardashian titles or similar games in that vein. It's about becoming a rap superstar and actually lets you record your own tracks to a degree.
Everyone knows Nicki loves fashion, but she is a rapper first and foremost. In the Nicki Minaj the Empire game you will get to be the star as you have to rap… or at least wing it. Yup, you can add your voice over beats from Glu and afterward you will be judged on your skill. Apparently, Nicki will pick winners to show off through social media which is definitely unique. The game also features allows you to fill in the "blanks" with lyrics if you choose to forgo rapping.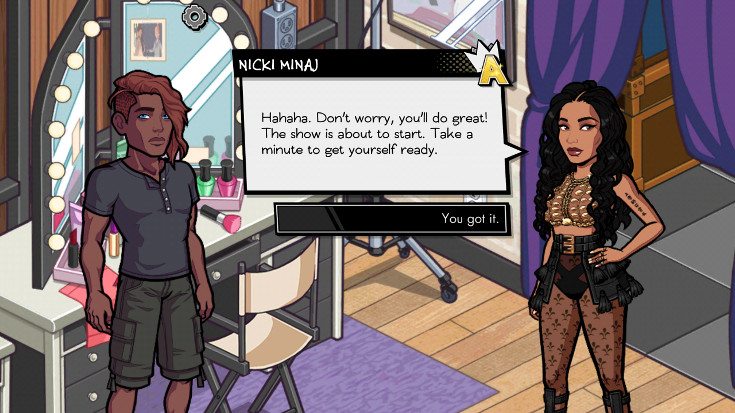 In addition to rapping, the Nicki Minaj the Empire game has a storyline to play through. This involves the star herself as she will whisk you away to a life of stardom and sunshine. She will guide you through your journey along the way and you will have to respond to various things through multiple choice answers. We have a feeling she's going to be okay with whatever you say…
Whle there is a story, it is still about the music as you will need to come up with hits to improve your fans base and rise to the top of the charts. The background music includes tracks from Minaj and the graphics are easy on the eyes as well. Don't worry, the songs chosen are some of her safer ones. There's also a chat room feature if you feel like delving into that wild mess. As you can see from the screen below, there aren't too many guys jumpin in on this one out of the gate.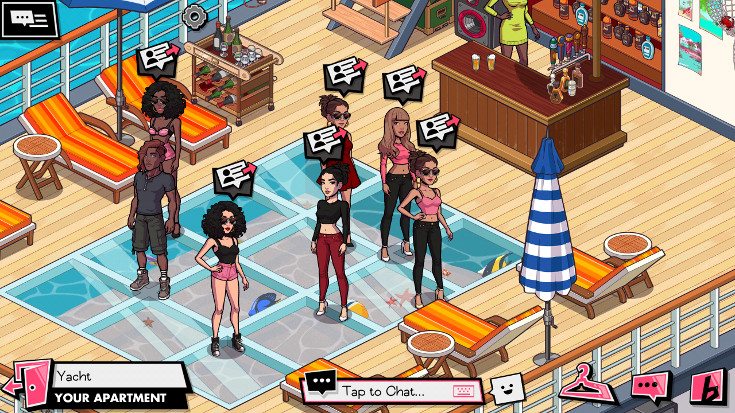 I'm not even going to act like I spend a great deal of time with this one although I'm a fan, this is not my cup of tea. That said, it will be something others will definitely want to look into. It appears to have quite a bit of depth and is just as polished as you'd expect from Glu. It's obviously a fine choice for fans of the Harujuku Barbie or folks that dig these types of games. If you want to give it a whirl, Nicki Minaj the Empire game is free to download from Google Play and the App Store.