Vodafone SuperHour unlimited data prices for India announced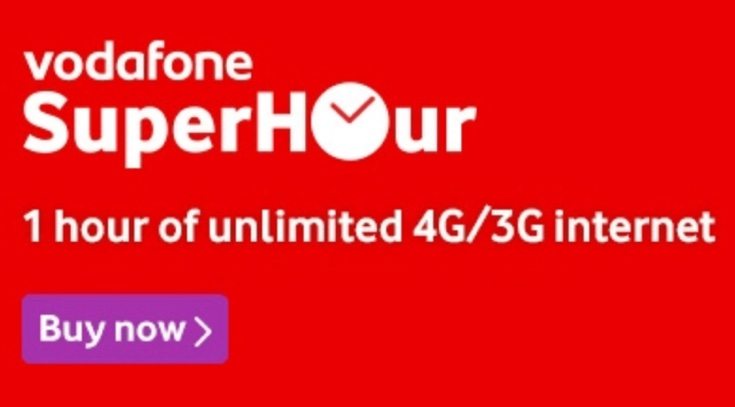 There's good news for smartphone owners in India who are looking for a service provider offering a decent data plan. Vodafone SuperHour could be just what some pre-paid customers are looking for, as the company is offering some sweet deals enabling people to stay connected without the worry. Check out the Vodafone SuperHour unlimited data prices for India from the launch.
The brand new SuperHour program offers pre-paid customers 3G and 4G unlimited data for an hour at a starting price of Rs. 16. According to the circle the cost may vary although areas to miss out on the deal are Bihar-Jharkhand, Madhya Pradesh-Chhattisgarh, Punjab, Himachal Pradesh – Jammu and Kashmir, and Andhra Pradesh-Telengana.
This new initiative begins today and by January 9 Vodafone SuperHour will spread to all circles. Vodafone also announced that unlimited local voice calls for one hour would be available for Rs. 7. This applies for Vodafone to Vodafone. Meanwhile customers still using 2G are offered cheaper unlimited data at a price of Rs. 5.
Vodafone SuperHour could appeal to plenty of customers, especially as voice and data packs are subject to unlimited repeat purchases. Even better, until March 31 Vodafone Play will be free to all users, and the unlimited data plan can be used to view content. Vodafone India's Chief Commercial Officer, Sandeep Kataria, explained,
"With SuperHour, you can use and download as much data as you like for one hour at a fixed, nominal price. Moreover, with unrestricted repeat purchase, you can make every hour SuperHour."
It seems likely that Vodafone SuperHour will attract a huge amount of interest. If you want to find out more simply head to this Vodafone Super Hour page and enter your mobile number to check out the packs available. What do you think of the new Vodafone SuperHour scheme? Drop us a comment in the box provided to let us know.
Via: Fone Arena