Nokia 6 vs Xiaomi Redmi Note 3 and more in specs outline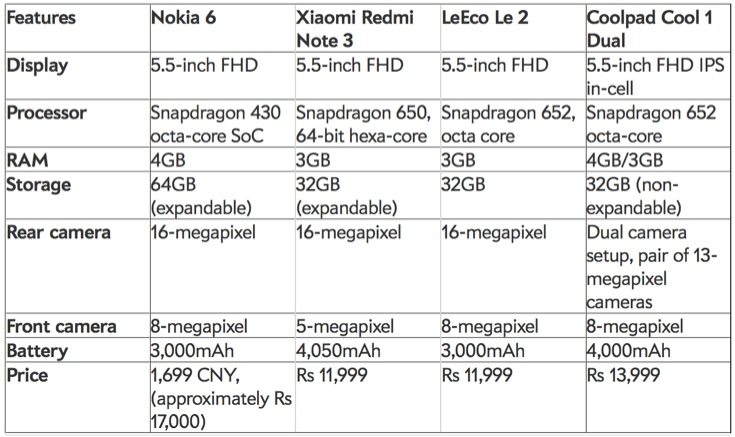 The long-awaited new Nokia Android smartphone was finally officially announced at the weekend. The HMD Nokia 6 has mustered a massive amount of interest and was launched for China, with availability set for early 2017. The phone has already been initially compared with some of its competitors, and you can check out the graph above showing the Nokia 6 vs Xiaomi Redmi Note 3 and more in a specs outline.
In our launch article on the Nokia 6 we gave the price as CNY 1,699 (at current rates that's around $245, £200 or Rs. 16,700). So what will buyers get for the money when comparing the Nokia 6 vs Redmi Note 3, LeEco Le 2 and Coolpad Cool 1 Dual? The image below from BGR shows the basic specs and features as well as an approximate price comparison. First impressions are that the Nokia 6 pricing is on the high side for what it offers, although it does benefit from the Android 7.0 Nougat OS.
For example all of the above smartphones sport a 5.5-inch display with Full HD Resolution. The Nokia 6 is powered by a Snapdragon 430 processor that lends itself to battery efficiency. However, the Redmi Note 3 has a Snapdragon 650 chipset while the LeEco Le 2 and Coolpad Cool 1 Dual carry the Snapdragon 652. One advantage of the Nokia 6 though is its 64GB of internal storage (expandable), compared to 32GB for the other three smartphones listed.
There are many Nokia fans out there that will be thrilled to see this comeback but one drawback is the exclusive launch for China (at this point at least). The first Android smartphone from the brand was always going to demand attention, although whether it will be able to compete with other handsets in a similar price and specs bracket is open to question at this stage. We do know that several new Nokia smartphones are expected for 2017 and we'll be waiting to see what else is brought to the table.
What are your initial thoughts on the much-anticipated Nokia 6 smartphone? Are you still hoping that it will release outside China? Why not let us know your thoughts by dropping us a comment.
Source: BGR