Samsung Galaxy C9 Pro vs C5 and C7 speed test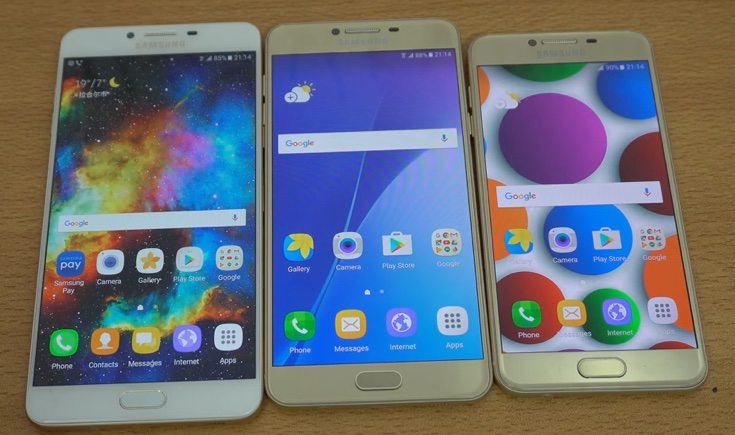 The Samsung Galaxy C9 Pro released late last year and joins others in the line-up such as the Samsung Galaxy C7 and Galaxy C5. They are mid-range to high-end smartphones and with that in mind it can be advantageous to check out comparative speeds. Therefore a Samsung Galaxy C9 Pro vs C5 and C7 speed test look might be of interest to some readers.
The Samsung Galaxy C7 and Galaxy C5 both launched in summer last year with the Galaxy C9 Pro a later arrival. All of these Samsung smartphones have displays with Full HD resolution. The C5 has a 5.2-inch panel, with the Galaxy C7 at 5.7-inches and the Galaxy C9 Pro at a whopping 6-inches.
All three handsets are equipped with Qualcomm Snapdragon chipsets. The Galaxy C5 sports a Snapdragon 617 octa-core processor while the C7 has the Snapdragon 625. Meanwhile the Galaxy C9 Pro is powered by a Snapdragon 653 chipset. Both the C5 and C7 have a very decent 4GB of RAM but the C9 Pro steps up to a mighty 6GB RAM. All are currently running the Android 6.0.1 operating system ahead of Android Nougat.
These three smartphones all have 16-megapixel rear cameras with dual-LED flash. The Galaxy C5 and C7 both carry an 8-megapixel front-facing snapper while the C9 Pro has an impressive 16-megapixel front-facing sensor. For the juice the C5 has a 2600 mAh battery, the C7 has a 3300 mAh battery, and the C9 Pro a more sizeable 4000 mAh battery.
The video embedded here shows Samsung Galaxy C9 Pro vs C5 and C7 speeds covering bootup testing and also a benchmark test. After a quick introduction we see the bootup test where the three handsets are simultaneously powered up. We're not going to give away which one is ready for action first, as you might prefer to find out when viewing the video.
Next a Geekbench 4 benchmark test is shown. Once completed the single-core and multi-core scores are displayed. The performance of all of them is very decent, although the difference in the benchmark results is worth noting. What are your thoughts on the results of the Samsung Galaxy C9 Pro vs C5 and C7 speed testing?
Source: Xeetechcare (YouTube)