Redmi Note 4 (Snapdragon 625) battery performance compared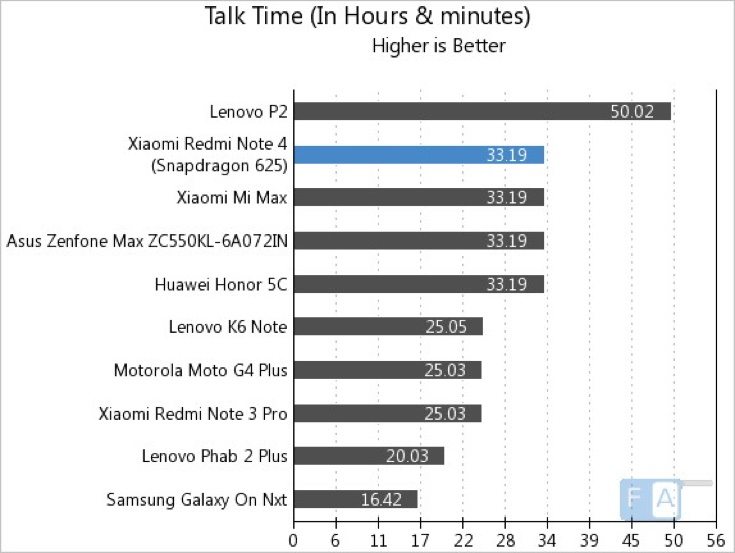 The Xiaomi Redmi Note 4 is currently in demand as availability has reached further markets after an initial launch in China. For many buyers battery life is an extremely important factor when buying a new smartphone and it's worth checking out some information before making a purchase. We have news of Redmi Note 4 (Snapdragon 625) battery performance compared with several other smartphones.
Although the phone released in China packing a MediaTek Helio X20 processor, the version for other regions (India for example) sports the Qualcomm Snapdragon 625 processor. It's the latter version of the Redmi Note 4 that has been run through a gamut of battery testing. The device has a nicely sizeable 4100 mAh battery that should provide plenty of juice for most users so it should be interesting to see how it copes in this respect.
The battery testing covers six major categories. They are Talk Time, 3G Browsing, WiFi Browsing, Video Playback, Charging Time, and Standby Time. The results were entered into tables comparing the Redmi Note 4 against nine other devices. Just a few of these were the Lenovo P2, Lenovo K6 Note, Huawei Honor 5C, and Asus Zenfone Max.
In the Talk Time category (image above) the Redmi Note 4 (Snapdragon 625) managed a time of 33 hours and 19 minutes putting it in equal second place on the table alongside the Xiaomi Mi Max, Asus Zenfone Max ZC550KL-6A072IN, and Honor 5C. The Lenovo P2 that packs a whopping 5100 mAh battery was the winner with a time of 50 hours and 2 minutes. The Samsung Galaxy On Nxt by comparison, was in last place on just 16 hours and 42 minutes.
For 3G Browsing the Redmi Note 4 was in equal third place with the Xiaomi MI Max and a time of 9 hours and 6 minutes. The Lenovo P2 took top spot again on 14 hours and 13 minutes while the Zenfone Max was second with 11 hours and 8 minutes.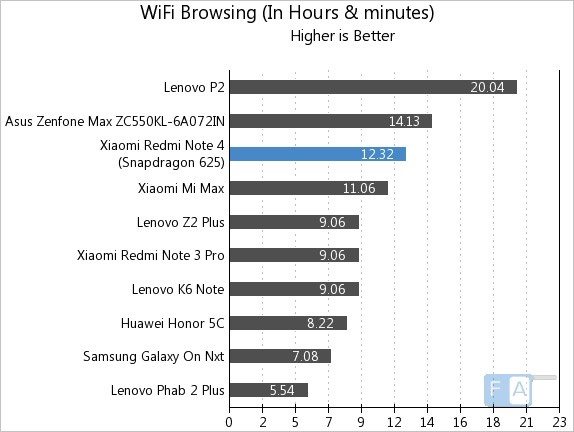 Moving on to WiFi Browsing the Redmi Note attained a respectable third place with 12 hours and 32 minutes. Once more the Lenovo P2 was the winner with a time of 20 hours and four minutes. Second spot was taken by the Zenfone Max on 14 hours and 13 minutes.
Video Playback was the next category and the Redmi Note 4 was further down the table this time. It managed equal 5th place with the Lenovo Z2 Plus on 14 hours and 13 minutes. The Lenovo P2 was first yet again with 25 hours and 4 minutes, just pipping the Mi Max on 25 hours and 3 minutes. Third and fourth places were taken by the Zenfone Max and Honor 5C.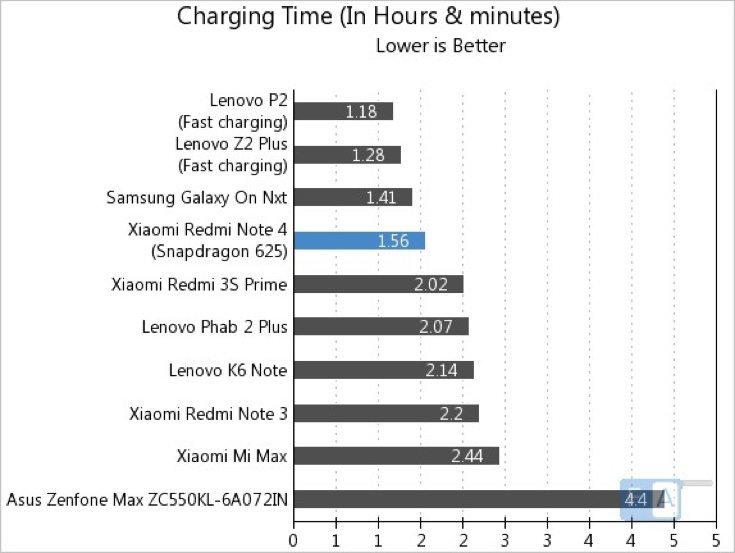 Next came Charging Time (see above) with the lesser time being better. The Redmi Note 4 came fourth on 1 hours and 56 minutes. The Lenovo P2 and Lenovo Z2 Plus came first and second with respective times of 1 hour and 18 minutes and 1 hour and 28 minutes (with fast charging). Third was the Samsung Galaxy On Nxt on 1 hour and 41 minutes.
Finally we arrive at Standby Time and this time the Redmi Note 4 and Galaxy On Nxt both racked up 35 days. There was a tie for top spot with both the Lenovo P2 and Xiaomi Mi Max on 55 days. They were followed by the Lenovo Phab 2 Plus alongside the Redmi 3S Prime with 52 days, then the Zenfone Max on 51 days.
Overall the Redmi Note 4 (Snapdragon 625) battery performance was very decent and compared favourably with other smartphones in the same price range. For further table images and how to find out about the battery life test procedures, please head to the source link below. Are you satisfied by the battery life of the Xiaomi Redmi Note 4 as shown in this testing?
Source: Fone Arena