OnePlus 3T vs Huawei Mate 9 Pro speed winner is…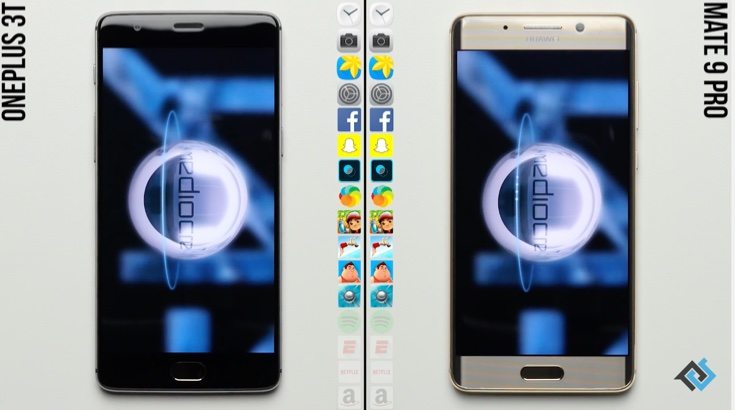 The OnePlus 3T launched last year and the Huawei Mate 9 Pro is another new addition to the smartphone scene. They both have some top-end specs so some buyers may be trying to choose between them. The OnePlus 3T vs Huawei Mate 9 Pro have been tested for speeds so we can see how they compare in this respect.
Before viewing the video we'll recap the key specifications of these two devices. The OnePlus 3T is powered by a Qualcomm Snapdragon 821 quad-core processor (2 cores at 2.35GHz and 2 at 1.6GHz). It uses Adreno 530 graphics and has 6GB of RAM. In contrast the Huawei Mate 9 Pro packs a HiSilicon Kirin 960 octa-core processor (four cores at 2.4GHz and four at 1.8GHz). It has Mali-G71 MP8 graphics and also has 6GB of RAM.
The Huawei phone launched running the Android 7.0 Nougat operating system out of the box, while the OnePlus 3T recently received the upgrade to Android Nougat as well. This should have improved performance even more, and given the powerful specifications it should be interesting to see how they stand up against each other as far as speeds are concerned. The video embedded below this article shows some OnePlus 3T vs Huawei Mate 9 Pro speed testing.
The video begins by showing the stopwatches on each phone being started. Following this various actions are taken that demonstrate the speeds of each. This is shown in split screen and includes taking selfies, opening apps including games and more. At the halfway point of the first lap both phones are an even match. The second lap then begins and by the end of the speed race one device is a clear 10 seconds faster than the other.
We're not giving away the ultimate winner, as you might prefer to find out when you watch the video. Afterward you've viewed the testing we'd be interested to hear your thoughts on the OnePlus 3T vs Huawei Mate 9 Pro in regard to speeds, so do let us know in the comments box.
Source: Phone Buff (YouTube)