LG G6 Fit and Forte could be new LG G6 variants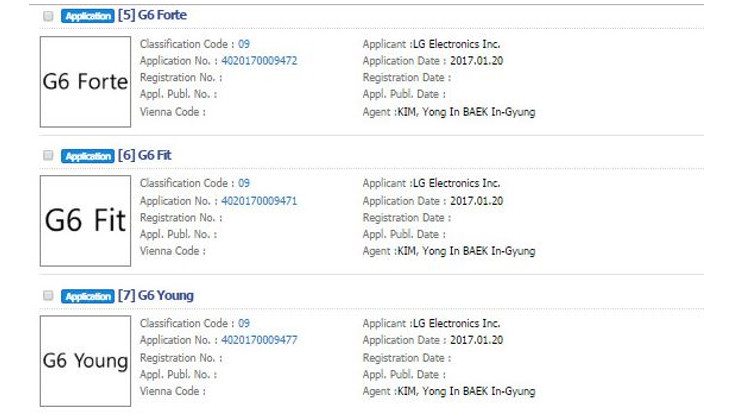 There have been plenty of jokes made about how smartphone manufacturers love variants, especially Samsung. Well, the LG G6 Fit may be one of a variety of variants set to launch soon if a new leak pans out.
The LG G6 will be a flagship smartphone despite the fact it will come with the Snapdragon 821 instead of the Snapdragon 835. While that's a bit of a downer, they may have something else up their sleeves in the way of variants. Not just one variant or two, but a whopping eight of them. Before we start throwing names your way, these were filed by LG with the trademark office in their homeland. In other words, nothing is concrete.
The two most likely to exist would be the LG G6 Compact and the LG G6 Lite. As their names imply, one could be a powerful mini while the other should be a slightly watered down version of their flagship. Another likely moniker would be the LG G6 Fit which may be an accessory or fitness tracker. We can't imagine it would be an actual fitness oriented smartphone, but you never know as we've seen some funky ideas.
As for the rest of the pack, we could be looking at a regional release with the LG G6 Young, the LG G6 Prix, LG G6 Forte and LG G6 Sense. Those names remind us of last year's "X line" as well with the Young representing the youth crowd, the Prix for speed, Forte for style and well, we don't know what Sense would be. Ghost detection is unlikely, but we have our fingers crossed. There is one more device dubbed the LG G6 Hybrid, which we won't even begin to speculate on.
Considering LG is set to debut the LG G6 soon, we should find out if there is anything to a few of these names. It would make sense to unveil a couple of variants after the flagship as well… or right around the time the Samsung Galaxy S8 drops. There's also a possibility we will never see any products with these names at all, so don't get too excited just yet.
via – mobiltelefon.ru       source: GSMinfo.nl