Honor 6X battery performance impressive in testing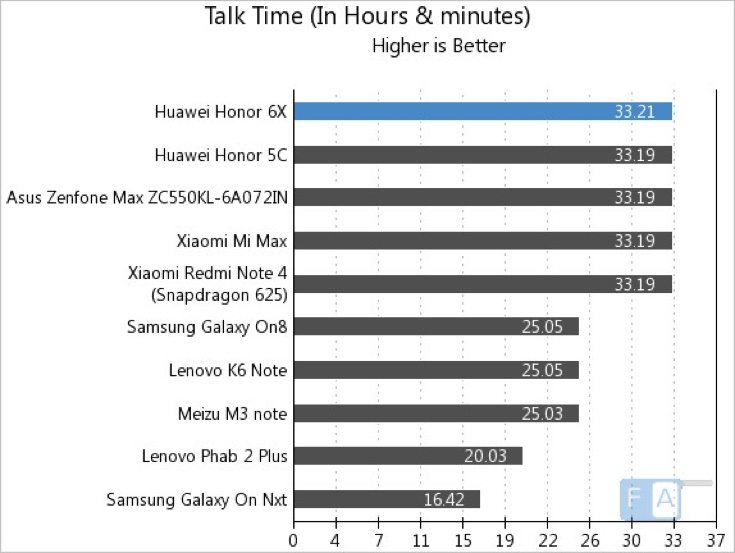 The reach of Huawei's Honor 6X smartphone is gradually spreading across various regions and recently arrived to the market in India. It's likely to be a popular purchase but many of us are increasingly heavy users of our smartphones and should consider the battery life of a device before we buy. The Honor 6X battery performance was shown to be impressive in some recent testing.
The Honor 6X has many decent specs and a competitive price. If you'd like to see further specifications please check out our recent Redmi Note 4 vs Honor 6X comparison. The device has just been put through a range of battery testing to see how it compares in this respect with other smartphones of a similar ilk.
The phone has a 3340 mAh battery (non-replaceable) and the testing covered six main categories. Following testing the results attained by the Honor 6X were placed on tables that show the performance compared with nine other smartphones. Just a few of these include the Honor 5C, Asus Zenfone Max, Redmi Note 4 (with Snapdragon chipset), and Lenovo K6 Note.
For the Talk Time category (image above) the Huawei Honor 6X battery life took top spot with a time of 33 hours and 21 minutes. It was closely followed by the Honor 5C, Asus Zenfone Max (model ZC550KL), Xiaomi Redmi Note 4, and Xiaomi Mi Max, all tied in second place with a time of 33 hours and 19 minutes. In bottom place by comparison was the Samsung Galaxy On Nxt with 16 hours and 42 minutes.
The next category was 3G Browsing and this time the Honor 6X managed second position with a time of 10 hours and 3 minutes. Only the Zenfone Max did better on 11 hours and 8 minutes. The Mi Max and Redmi Note 4 were joint third with 9 hours and 6 minutes. Samsung's Galaxy On Nxt was last again on just 4 hours and 33 minutes.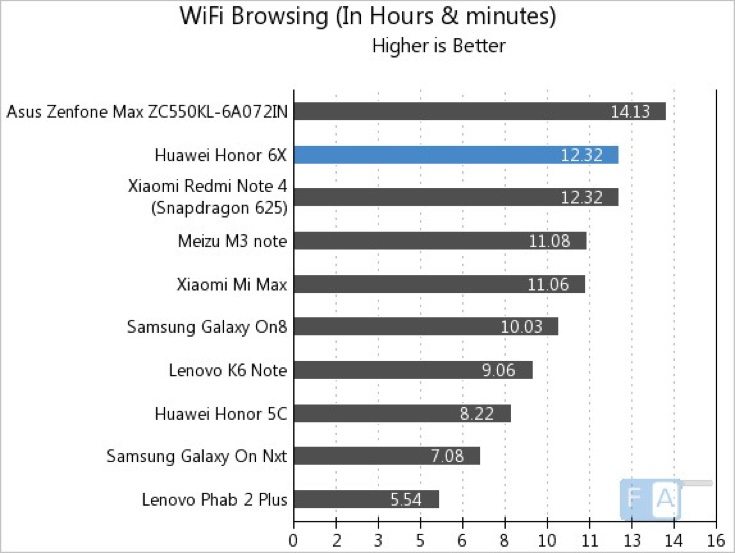 For WiFi Browsing the Honor 6x was joint second with the Redmi Note 4 managing 12 hours and 32 minutes. The Zenfone Max was first again with 14 hours and 13 minutes. The Lenovo Phab 2 Plus was last this time on 5 hours and 54 minutes.
The results were not so impressive for the Video Playback category, although still decent enough. This time the Honor 6X was fifth with a time of 11 hours and 8 minutes. The Redmi Note 4 led the pack with 14 hours and 13 minutes. This was followed by the Lenovo K6 Note (12 hours and 32 minutes), Coolpad Note 3 (12 hours and 30 minutes), and Honor 5X (12 hours and 29 minutes). The Lenovo Vibe K5 Plus was last with 6 hours and 42 minutes.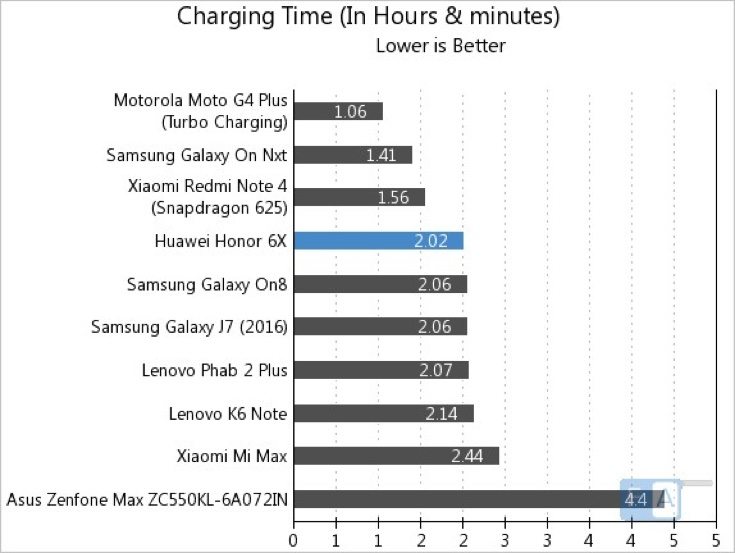 Charging Time was also tested (shorter is best) and the Honor 6X charged in 2 hours and 2 minutes putting it in fourth place. The Moto G4 Plus was at the top with a time of 1 hour and 6 minutes (with turbo charging). Meanwhile the Galaxy On Nxt was second on 1 hour and 41 minutes while the Redmi Note 4 was third with 1 hour and 56 minutes. The Asus Zenfone Max with its whopping 5000 mAh battery took the longest, with a time of four hours and four minutes.
The final category was Standby Time and the Honor 6X tied in second position with the Galaxy On8 and a time of 54 days. The Xiaomi Mi Max's 55 days meant it won this category while the Moto G4 Plus managed only 33 days on standby.
Overall the Honor 6X attained very decent results for a smartphone in its price sector. For further tables or to find out about testing procedures please check out the source below. Are you satisfied by the Honor 6X battery performance as shown in this testing?
Source: Fone Arena