Word of Promise Bible App Review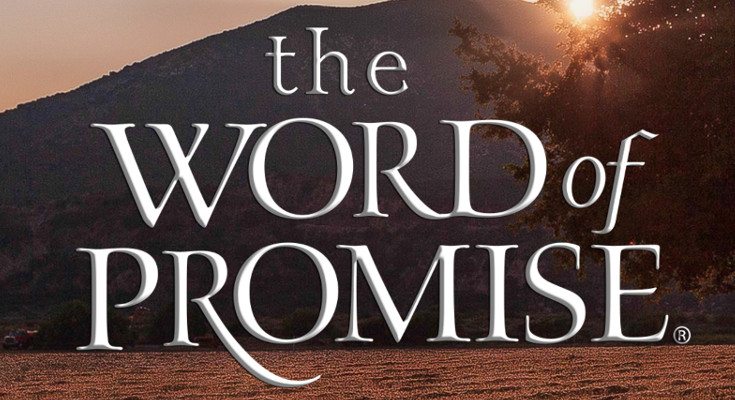 If you want a good Audio Bible app, you don't have to dig too far on the App Stores. If you want something read by familiar voices, the Word of Promise Bible App is the only way to go. While not the only celebrity-based Audio Bible, it is the only one you'll be able to get on your handset or slate.
If you want to read on your mobile, there are several different ways to go. Audiobooks are a popular alternative, especially for lengthy reads. It is safe to say most would call the Bible a long read depending on which version you choose and your grasp of the lingo. Well, the Word of Promise app can lend a hand as it's the good book in audio form read by a massive cast of actors and actresses.
Before we get to the list of celebs, let's take a look at what the Word of Promise app can do. From the menu you'll be able to access your notes or highlighted passages along with your history, bookmarks and playlists. While simple, there is a sleep timer feature as well that you can set for 2 hours to keep your battery from running dry. On that note, I have passed out more often than not to the sound of Michael York, and can say this app is very easy on my battery.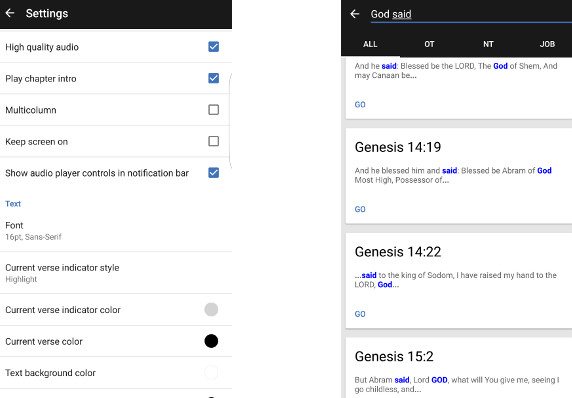 As for the actual content, there are several different bibles to choose from but only one has the full-acting from the celebs. That would be the New King James Version, and you can easily access any passage or verse with the tap of a finger. While vast, navigation is made simple through the Word of Promise app. Highlighting, bookmarking, etc… is all handled very well and there's even a "cast" button if you want to put it on the big screen or through your home stereo setup.
Now for the talent. The biggest name on the list would have to be Jim Caviezel which many may know from Passion of the Christ where he played Jesus. He will be reprising that role while Michael York narrates and Martin Jarvis plays the voice of God. Those three alone do a great job but the supporting cast is vast with Luke Perry, Harry Hamlin, Malcolm McDowell, Sean Austin, Gary Sinise, Richard Dreyfuss, Ernie Hudson, Joan Allen and more. The whole package was put together by Carl Amari as well, the man responsible for the Twilight Zone radio series.
While I have read thousands of books from King and Perrotta to Golding and Steinbeck, the Bible has always been a tough one for me. I had also tried a few audio bibles although none stuck with the exception the Bible Experience which does not have an app. The Word of Promise Bible App is by far the best Audio Bible I've found for mobiles, and even with the audio off, it's still a great mobile way to read the bible on the go.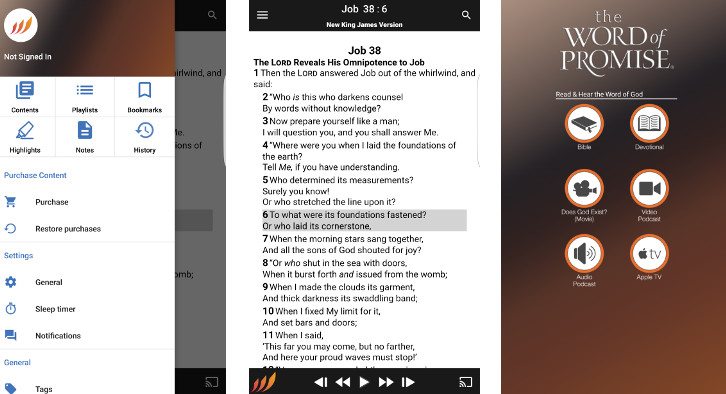 The audio quality on this one is amazing if you get the HQ versions and the sound effects are spot-on. Nothing is cheesy, it is all very well done and the cast is perfect for the most part. In all, you're getting over 90 hours of high-quality audio to go along with study and culture notes, articles and 350 word studies. There are full-color maps as well (a nice bonus) and the deluxe Nelson concordance. That said, it's pretty large so the HQ version with enhanced audio is going to put 4GB on your phone storage or microSD card.
The Word of Promise Audio Bible app is free to download and you will be able to check out some of its features without spending a penny. If you want the full-blown experience, you can pick up the complete package which includes everything we've discussed and more for $39.99. That's steep, but well worth it considering the disks can go up to $99 or more. It goes without saying this is not going to be an app for everyone, but it is the best way to go if you want a great Audio Bible your mobile.