AGM X2 Max set to debut with Rugged Exterior and 8GB of RAM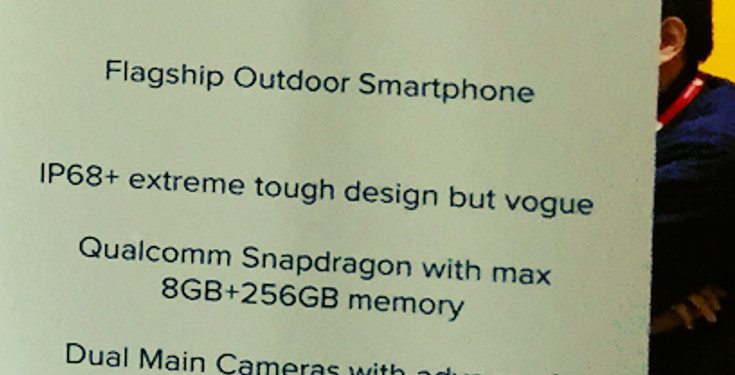 If you want a tough smartphone from a major brand, your choices are limited and usually not that impressive. AGM may not be a household name, but the AGM X2 Max is one you'll want to watch. Not only is it rugged, but it also has better specs than many flagships we've seen.
AMG is known for making outdoor tech and the AGM X1 and Rio are their first two smartphones. The AGM X2 Max is one of their latest, and is going to be quite impressive if the specs pan out. This one is part rumor, part reality as you can see from the photo taken of their booth. The promotional material bills the AGM X2 Max as "Flagships Outdoor Smartphone" and we have to agree after looking at those specs.
The AGM X2 Max is tipped to have 8GB of RAM and will come with 256GB of storage. While not named, the processor is listed as a Qualcomm Snapdragon "with max" which we assume is the Snapdragon 835. No word on the display, but Dual cameras, an Omnibearing Ambient sensor and the IP68 tag were listed. There are also no photos of the handset thus far, something to factor in regardless of those high-end specs.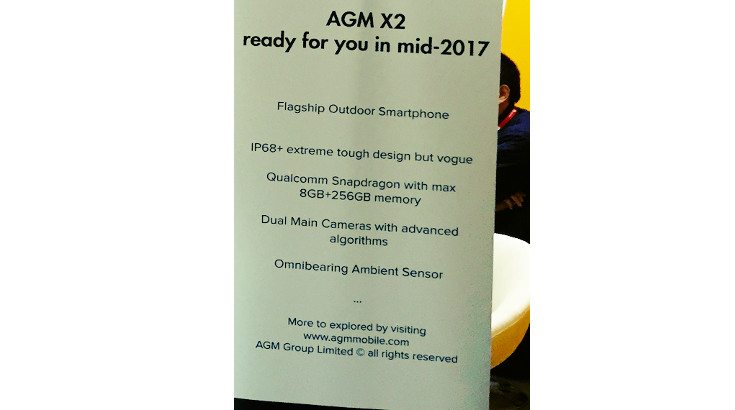 The rumor part of this particular leak involves more AGM X2 variants. There is going to be two additional models with a base variant sporting 64GB of storage and 6GB of RAM along with the Snapdragon 820. It's also rumored to have a 16MP dual-rear camera and a 12MP front-facing camera. The AGM X2 Pro is a step up with 8GB and 128GB of storage but keeps the SD820. It's going to have a huge batter as well at 6,000mAh.
As for the AGM X2 Max, aside from what the photo shows the rumor mill suggests a 21MP dual-rear camera because why not. The front-facing camera is almost as impressive at 20MP. As it's "rugged" you'll get the IP68 tag but there's no word on the MIL standard. Last but not least is Quick Charge 4.0 for use on what we assume is going to be a very large battery.
While the AGM X2 Max and its brethren sound too good to be true, we've seen some smartphones with insane specs show up at MWC before. Whether they will actually be affordable and easy to obtain will be a different story although the company's other handsets can be found online at a reasonable rate.
via – Gizmochina