Xender App Review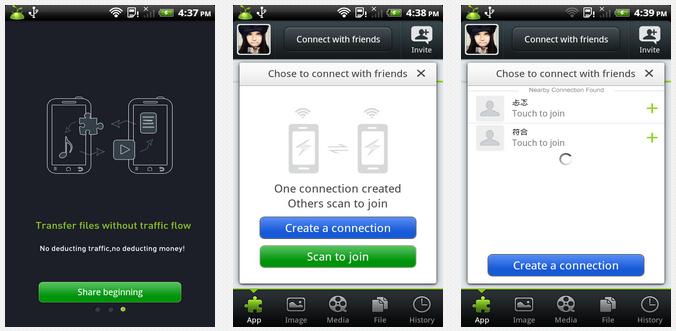 As most of you all know, users can't transfer files between cross platform devices like iPhone and Android. But somehow, Xender app can do this.
Xender App – How Does it Work?
Xender app is a free app that makes use of a technology called Wi-Fi direct. This allows 2 devices that are Wi-Fi enabled to communicate directly with each other. Wi-Fi direct is a lot faster than Bluetooth (50 times faster) and it's also the file transfer technology that Airdrop in iOS uses. There are actually two ways in which Wi-Fi direct can take place:
Via a router: If two devices are connected through the same router, the Xender app can allow you to transfer files through the router to the other device. This procedure will not consume any internet data as you are merely using network capabilities of the router.
Via a hotspot: This is the most common method. You do not need to be connected to a Wi-Fi router.  Here, the xender app will be used to create a Wi-Fi hotspot which the receiving client will join. Then, the file can be transferred directly via Wi-Fi direct.
Xender App – How To Install and Setup
Download Xender app to your phone and install it.
Launch the app, and set your profile picture and name. You can either choose one of the provided avatars or use an image available in your storage. Next, choose a name by which your friend can identify you at Xender.
Now, your phone is setup to send and receive files from Xender. Instruct your friends to follow the above steps. Upon doing so successfully, you can share your files, pdfs, photos, songs, videos etc. with your friends.
Other Features of Xender App
It can allow you to connect with more than one user and share files to all of them simultaneously.
Free to use.
Free transmission.
No cost any traffic.
Swipe 'n Share feature – this allows users to share selected files by just shaking your phone.
Share installed Android apps – Xender will repack and send it to your friends.
Browse all your files and folders easily through the app.
Use history to share recently received or sent files to another Xender user.
Conclusion
Xender is an easy to use file sharing tool which is well known for its clean user interface and fast file transfer. It features swipe and share which allows users to share their files or apps with a single shake of their device. It can share any type of files with a great speed which saves your time to a great extent.
Unlike other file sharing or file transfer apps on the app store, Xender is unique. It works as advertised and is a powerful file piece of software. Xender app really offers 50 times faster data transferring speed than Bluetooth. It is indeed the best available option to share or send your files with high speed and uninterrupted connection.
So, if you are looking for the powerful alternative to Bluetooth, then Xender is a great option.  Download Xender App from Google Play here.
Source: Techgyd