Fossil Marshal Smartwatch – Fossil Q Marshal Review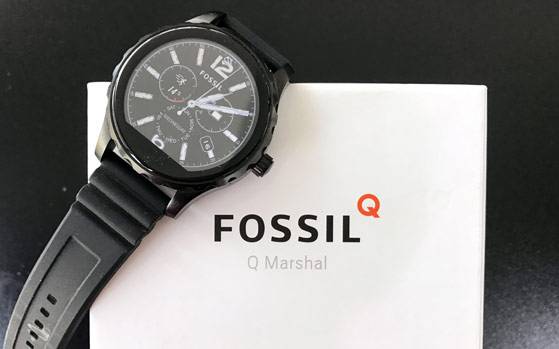 The Fossil Marshal Smartwatch (Fossil Q) is the twin sibling of the Q Wander, both of which timepieces are serious on style and less concerned with other technical features. These are smartwatches that want to be mistaken for classic watches, and the brand certainly carries the look and feel of a proper watch. At $255, this Fossil Marshal Smartwatch (Fossil Q) is also as expensive as some more feature-fitted options out there in the market today.
Fossil Marshal Smartwatch (Fossil Q) Design and Build
The Q Marshal is one of the best-looking watches that I've come across. It looks like a traditional watch with a case is built out of stainless steel. It comes with black silicone straps or leather straps, and oddly, both cost the same. The straps are removable so you can use any 22mm ones with this smartwatch.
Its case is 14mm thick which is just the right size for anyone's wrist. There's a crown on the right but this only serves as a button. A short press will turn the screen either on or off. A long press will take you to the apps list.  And a double-press turns on the 'Theatre mode' in Android Wear.
It has a circular 1.4-inch, 320×290 pixel resolution LCD display which is similar to that of the first-generation Moto 360. Color reproduction feels a bit dull maybe because it's not an OLED panel. Or maybe its display has a noticeable ghosting issue which is apparent when you're swiping through watch faces.
Fossil Marshal Smartwatch (Fossil Q) Features
The Q Marshal sports the Qualcomm's Snapdragon Wear 2100 SoC. This was designed especially for wearables. It does not support LTE, meaning the watch will need to be tethered to your phone for notifications. It comes with 4GB of onboard storage, of which 2.1GB is usable. Other salient features include a compass, a gyroscope, an accelerometer, Bluetooth 4.1 Low Energy, Wi-Fi 802.11b/g/n connectivity, and a 360mAh battery.
The Q Marshal runs on Android Wear 1.5. It is compatible with Android as well as iOS devices. It has Google's stock UI like most smartwatches. It comes with a Fossil Q app but all it does it lets you change the watch face.  Other standard apps include a flashlight, a calculator, an alarm, a stopwatch and Google Translate.
Fossil Marshal Smartwatch (Fossil Q) Performance
Wearing it is like wearing any regular watch. The silicone straps are comfortable although they do pick up lint and dust very easily. There isn't a wide selection of watch faces to choose from, but nearly all of them can be customized to your liking.
Performance wise, it is generally good but there are times when the watch behaves a bit sluggishly, for unknown reasons. It lags sporadically, even if you're doing basic things such as interacting with a notification. I also noticed that setting the display to always-on causes a temporary burn-in. I think this is a clear indication of the Q Marshall being saddled with a low-quality LCD panel.
The device can handle phone calls, which can be enabled from the Bluetooth settings. The volume isn't very loud so your best bet would be conversing in a quiet room to holding the watch right up to your face.  You can control music playback, and this works flawlessly across popular music apps like Spotify and Apple Music. There are fun games too that you can download from the app store like Minecart Jumper, Nougat Land, and PaperCraft, but take note – these may take a sizable dent in your battery level.
Verdict
The Fossil Q Marshal is priced at $255 and is backed by a two-year warranty. Even though it is a luxury watch, this seems to cost too much for what is essentially a basic Android Wear smartwatch. Yeah, Fossil has done a great job with the build and design here but everything else seems to feel a bit underwhelming. The biggest problem is the poor quality of the display, which detracts from the premium experience one would expect from the Fossil brand.