Twitter Stock Drops – Can It Bounce Back?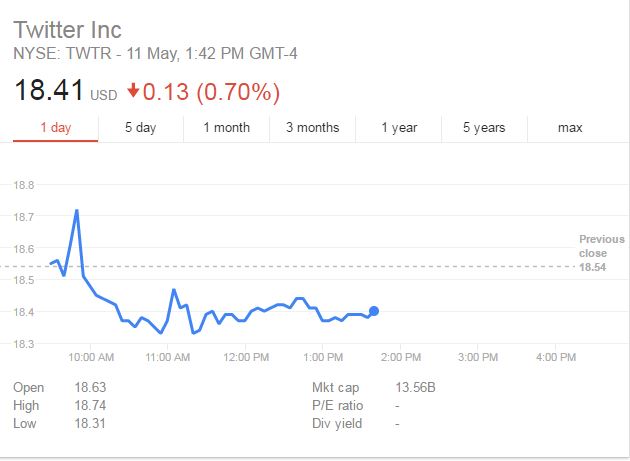 Twitter Stock keeps on dropping these past few days and the social media giant's shares moved lower today. The stocks keep on dropping for seven straight trading days before a slight recovery on Wednesday.
The Rise and Fall of Twitter Stock
The beleaguered social network had a surprisingly stellar 1st quarter just so you guys know. The number of monthly active users grew to 328 million. Twitter said that their user base growth is due to their algorithmic feed and a new Explore tab that aggregates trending content. However, starting April it's been a volatile for Twitter investors. The stock growth rate seems to be inconsistent, but it hasn't been a straight line down. The stock has shot lower when they made changes to its interface.
Twitter stock traded as low as $14.31 in April, only to hit a high of $18.69 in May. The shares have given back most of those gains, and Twitter's now trading in the mid-teens. But then again, when investing geniuses Mark Cuban has a stock tip, it can pay to listen. After all, he's one of the richest men in the World today. Also, if you'll analyze the trend, it seems that the hashtag hawker is good hands.
Mark Cuban just revealed what he believes is the best stock for investors to buy right now – and it is Twitter. That's right — he thinks Twitter stock is a good buy.
"I started buying Twitter just recently because I think they finally got their act together with artificial intelligence," Cuban told CNBC's Squawk Alley.
By the way, following Cuban's statements, shares of Twitter popped by roughly 5% as of 1:15 p.m. ET ( May 2, 2017) to $18.42.
Source: Business Insider