Google Lens App – AI Driven Visual Search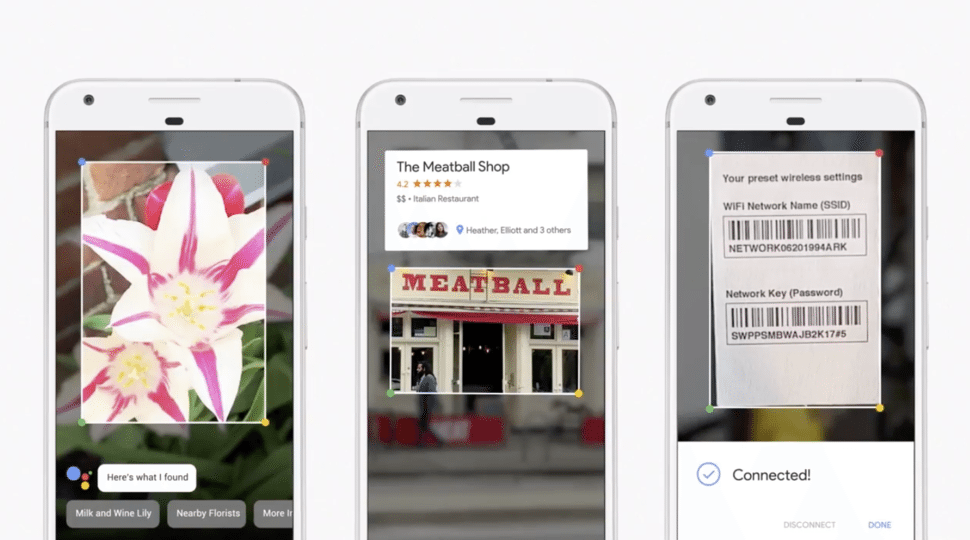 Google Lens was unveiled yesterday at the recent I/O 2017 developer conference. It is the latest AI-driven technology that uses the smartphone's camera and deep machine learning to detect an object, assess it, understand it, and offer actions based on its evaluation or findings.
The app was developed to assess and understand what is going on in a photo, a video or live feed. For example, when you point your smartphone at a ball, the Lens will tell you, on the screen, which type of ball it is. You may also aim your camera at a shoe store, and the app will show you reviews and other information about the store such as address details and opening times. Google Lens also recognize club, diners, restaurants, coffee shops, and bars too. presenting you with a pop-up window showing reviews.
According to CEO Sundar Pichai: "When we started working on search, we wanted to do it at scale, that's why we designed our data centers from the ground up and put a lot of effort into them. Now that we're evolving for this machine-learning and AI world, we're building what we think of as AI-first data centers."
Google Lens App Can work With?
According to the Search Giant, this app will be implemented into Google Assistant and Google Photos. Other Google apps will soon follow.
Google Lens Release Date
Google didn't provide any information as to when Google Lens would be available for download on Google Playstore. But as always, we will let you know as soon as the information becomes available.
Google Lens APK
Google Lens has yet to get a release date on Android, so don't get fooled by a handful of websites that are offering free APKs for Google Lens. You really shouldn't download or install any of them – they are fake. Be extra careful because a lot of websites are claiming to have early and free access to the app, and they are using its popularity to trick people into downloading malware.
Source: Engadget