5 Helpful Collaboration Tools for Businesses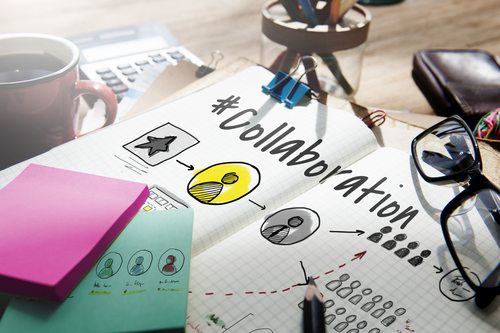 With the rise of Facebook, Twitter, and other social media platforms, many people are beginning to see the value of social media collaboration tools. Business people in particular are turning to social media tools to help them promote their businesses. Of course, social media can be daunting and overwhelming, especially if you're doing it all on your own. Thankfully, there are tools that can help you better organize your business' promotion and social media presence. These tools can also save you time by reducing all the clutter of social media technology.
Here are the five most helpful social media communication and collaboration tools:
Collaborate and Share Files with Google Drive
Google Drive is an indispensable tool for social media marketers. With it, users can store documents in the cloud, share files, and keep them synchronized across all devices. With Google Drive, you can create documents and share them with as many users as you'd like, including team members and clients.
One very helpful function of this tool is that users can leave notes and comments or tag specific users to bring certain portions of a document to their attention. Changes can be tracked so you can see who is making which changes. It's far easier to share a link than to email an entire file whenever a single change or edit is made.
Google Drive can also be used as a scheduling tool. You can track when contents and posts are due or when they should be published, who is responsible, and what kind of projects are associated with them. It is fully customizable as well.
Manage your Projects on Basecamp
Basecamp is a project management app that allows you and your team to track your projects' progress. It also has a comment section where you and your team can discuss your projects or businesses. Basecamp has a to-do list where you can set deadlines for your projects. Plus, it has an easy interface, making it a helpful tool for your social media marketing business and team.
Basecamp is ideal for teams spread apart across different time zones who need to stay on the same page regarding projects and milestones. This solution is ideal for those who do not have to keep in touch quite as often as those who might use Slack (ongoing communication is definitely what Slack is best for). It has an intuitive, easy-to-use interface and allows projects and tasks to be organized very neatly.
Promote and Schedule your Content with CoSchedule
If you're busy and often worry whether you'll have time to post your content on a certain day or at a certain time, then you need look no further. CoSchedule can do the work for you. CoSchedule is a great social media tool for managing and collaborating content and projects alike.
CoSchedule is an intuitive, easy-to-use, drag-and-drop content marketing calendar that allows you to plan and promote your content simultaneously through social media. It's a real time saver.
You can also create detailed boards for each project or post, even deadlines down to the hour. In addition, you can create status bars to indicate your progress across each of your to-do items and add comments on specific tasks or projects.
CoSchedule is particularly helpful for blogging. With your various project boards, you can choose blog categories, select the author, and follow a link to make changes directly on the post.
CoSchedule makes it easy to distribute your content (including, but not limited to, blog posts) across all your social media channels. This presently includes Facebook, Twitter, LinkedIn, and Google+.
Organize your Projects with Trello
Trello is a popular virtual to-do list for social media marketers and business people. It allows you to create boards and invite users to view and contribute to them. Within each of these boards, you can create lists with individual cards underneath them.
Trello allows you to move cards between lists or tag specific individuals to a list. You can have several people tagged to a list so they can coordinate their work better.
Trello provides a simple but efficient solution for project management. It allows you to communicate with your team on individual cards and tag other users too. You can open a card to share files – or links to Google Drive files – and set deadlines. You can even configure notifications so you receive alerts when a deadline is approaching. Handy!
Make Work and Innovation Happen with Zillable
Zillable is a relatively new app, but it's already receiving positive reviews. It's an all-in-one business app for your team. With Zillable, you can easily connect and collaborate with like-minded people around the world. It can also streamline your work processes.
Zillable provides a comprehensive suite of tools for idea and file sharing, communication, and collaboration. The tools are customized to meet your business objectives.
One of the many good features of Zillable is that it allows users to create their own board for creating and monitoring tasks. It also has a dynamic private network for sending, receiving, searching, and archiving messages. On top of that, it has a fully featured notebook for saving notes and reminders, as well as for managing and organizing files. All the things you do on Zillable are logged under the Notebook section. Basically, Zillable is capable of project management, team instant messaging and mailing, file sharing, creating mind maps and skill maps, and a whole lot of other things.
Social media collaboration isn't just about using any of the tools listed above. It's about using the right tool that can deliver optimum benefits for your team. With this in mind, choose an all-in-one tool that is user-friendly, dynamic, and feature-rich.