Sony Mylo 2 is a real winner, do you agree? Press release shows it is official
Sony News Update – It looks like Sony are on to a real winner here with the Sony Mylo 2, we want to know if you agree or not? So the Sony Mylo 2 is officially out in the open and the press release below this news proofs it.
Now get this we have had all the Nokia boys with their cool little tablets, but we can see a better winner here with the Sony Mylo 2 because it will leap out to a wider audience, and at only around $300 we can really see this product doing well.
So the price is right what about the specs? Well how about a 3.5 inch 800×480 touchscreen, 1.3 MP camera, slide-out QWERTY keyboard, a cool 1GB of internal memory and WiFi, and if that is not enough how about a Memory Stick Duo storage expansion slot and that Sony have said that the Mylo 2 can play YouTube videos, surely this means that it will have at least a 400 MHz or higher.
No one is to sure on what software is pre-installed but we do know there is a web browser, widgets, RSS reader, Skype plus instant messaging client (AIM, Skype, Yahoo! Messenger, and Google Talk are supported).
The list goes on and on such as a media player app, text editor and so forth. Now the bit you have been waiting for my little children, the Sony Mylo 2 should be and start selling of course at the end of this month for around $300.
The package once bought will include free access to Wayport's WiFi network which includes 9000 McDonald's, venues, airports and hotels, plus much more. Please do read the full press release below.
Finally, the availability – will start selling at the end of this month for about. The package will also include a that includes, , and other … Full release after the jump.
Get Phones Review delivered by email for news updates — Get our newsletter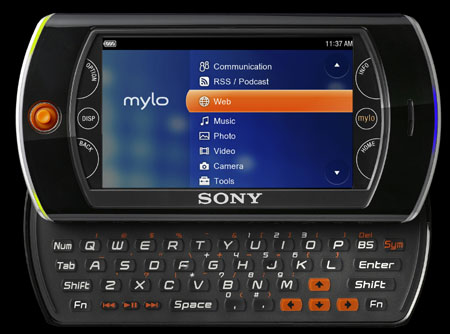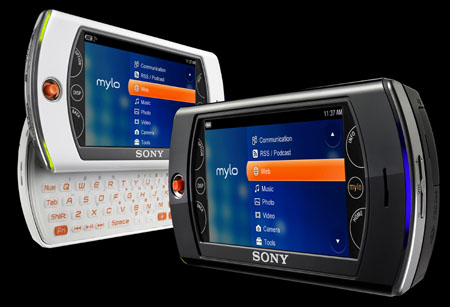 PRESS RELEASE – For anyone who lives their life online with multiple social circles and struggles to get enough time on their home computer, Sony's mylo communicator supports the popular web entertainment applications of a PC, in a pocketable broadband device.
Available in black or white, with a back-lit, slide-out QWERTY keyboard, this wireless broadband device connects to open Wi-Fi networks using 802.11/b and /g standards.
It does not require a monthly service contract, and as an added bonus, the new COM-2 mylo communicator devices will receive free access to participating Wayport hotspot locations in the U.S. including more than 9,000 McDonald's locations until Dec. 31, 2010.
Enhanced Web Browsing
With Adobe Flash Lite 3 software, the mylo communicator gives you full access to many of the odd and outrageous videos posted on YouTube and other popular Flash-based Web sites. The device can also upload and download content to and from the Web using the touch screen interface on its 3.5-inch high-resolution display.
Shoot and Share
You can keep Facebook photos fresh with the communicator's 1.3 mega pixel camera and photo editing software. You can resize, write captions or draw on photos and post them from the device directly to most social networking pages or blogs whenever you are connected to a Wi-Fi hotspot.
"With the rise of social networking, people are making more friends and staying closer to the ones they have," said John Kodera, director of marketing for personal communication devices at Sony Electronics. "And while they're chatting and posting to their personal web pages, they're listening to music, playing games or surfing the Web. The new mylo communicator combines these fun parts of your PC in a portable device so you can stay connected when you're away from your home computer."
Keeping Up With the Buddies
According to The 2008 TRU Study, almost 50 percent of teenagers in the U.S. use instant messaging clients to send messages to friends and family. With the mylo communicator you can log into existing AIM, Google Talk, Yahoo! Messenger and Skype accounts to access contact lists, while sending and receiving multiple messages at the same time.
When there is just too much news to type, you can make free Skype-to-Skype voice calls to more than 246 million other people who use Skype. You can use SkypeOut to make inexpensive calls to landlines and mobile phone numbers anywhere in the world.
Widgets Do the Work for You
Offering short cuts and the ability to keep tabs on your social networks, the mylo communicator features five specialized programs, known as widgets, to enhance the web experience on the device.
The Google Search Widget is a short cut application so you can quickly search the web for information on your favorite band or the new kid at school.
The MyContacts Widget compiles all of your instant messenger contact lists and shows you who is online and available to chat.
The YouTube Widget keeps you informed of the featured videos on the site. If you subscribe to real simple syndication (RSS) information, the RSS Widget sends you updates about your subscriptions.
The Facebook Notifier keeps track of specific elements of your Facebook page.
Mylo users can also register to become developers with access to the information they need to create their own widgets for the communicator. Developer registration will be available at the end of the month at http://www.sony.com/mylo. Personalized widgets created for the device can be shared on this same site.
While You Were Out
When you are between hotspots, the device will support flash-based games. Sony will be offering such games as Sudoku and Solitaire as free downloads timed to the product's availability.
The new communicator comes with 1GB of internal memory, with the option of adding up to 8GB of additional storage with Memory Stick Duo media. You can use this memory to store additional flash games, digital music files, video files,image files or news summaries downloaded from the Internet, or imported from your computer or digital camera.
The device supports Windows Media DRM 10, so users can store and play music that has been downloaded or purchased from compatible online stores and subscription music services. It plays MP3, AAC, ATRAC or WMA (secure and unsecured) files. You can watch MPEG4 simple profile and MPEG4/AVC baseline profile video transferred to the mylo communicator via USB from a PC or downloaded from the Web.
When you're ready to get back online, but not sure of where to find Wi-Fi, the unit includes a hotspot location database from JiWire for the top 20 U.S. cities.
You can easily customize and add locations to the database stored on the device by visiting http://www.sony.com/mylo.The mylo communicator uses a lithium-ion battery that offers up to 20 hours of music playback, six hours of continuous Skype talk time, and up to seven hours of video playback. It comes equipped with a microphone, stereo headphones, USB cable, a stylus and a neoprene case. You can personalize the device with attachable face plates, which are sold in two packs – red with gold or blue with pewter. Each pair will be sold for about $20. There is also an optional charging cradle available for around $30.
The latest mylo communicator will be available this month for about $300 direct at sonystyle.com, at Sony Style retail stores and at authorized dealers nationwide. More information is available online at www.sony.com/mylo.
Other Sony Mylo News – Link