Philips X800 and Xenium X-Connect touchscreen phones officially announced
Oh boy Philips are stepping up to the plate in the way of full touchscreen mobile phones which is fantastic news, the two phones they have to offer are the Philips X800 and the Philips Xenium X-Connect and oh yes they look good.
The question has to be "Can Philips compete with the likes of Apple 3G iPhone, BlackBerry Bold and even the HTC Touch Diamond? Only time will tell as they say. Philips is clearly wanting a piece of the high end market and we can see them achieving just that, they have now officially stepped up to the board with these two new handsets.
The Philips X800 mobile phone is a full touchscreen handset with a large display and the Philips Xenium X-Connect is a Windows Mobile-based device with even a larger screen. Right first up the Philips X800 which is the first full touch handset and even though there are not many pictures of this phone you can clearly see that it is a good looking one judging by the picture we have, the Philips X800 is a tri-band GSM/GPRS device with a 2.9-inch 262K color TFT display with resolution of 240 x 400 pixels, the fully touch-based Philips X800 offers handwriting recognition, microSD memory card slot, Bluetooth, 2 megapixel auto focus camera, office documents reader, promises up to 850 hours of standby time and up to 8 hours of talk-time, we do not know what the price will be nor do we know when it will be available but we will keep you posted.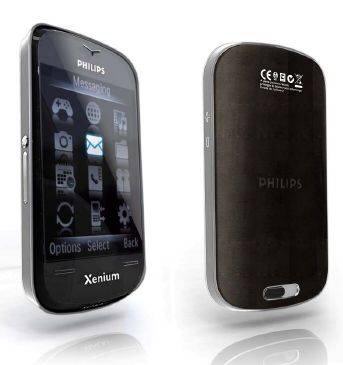 Next up is the Philips Xenium X-Connect which will run on Windows Mobile 6 and features a large 3-inch display, sorry to say but we do not know nothing about the resolution and touchscreen functionality, we do know that it will have GPRS/UMTS/HSDPA but lacks Wi-Fi, other features include an integrated GPS-receiver, USB, Bluetooth, microSD memory card slot, 624MHz processor and 3G. Yet again no price or availability as of yet.