K-Touch C280 the whopping 8 megapixel cameraphone with Canon image processing: What do you think?
We all know that cameraphones are pushing out maximum 5 megapixels which is are good indeed, we have reported before about the massive 10 MP camera phone which is the Samsung SCH-B600 (See here) so will we be liking this one called the K-Touch C280.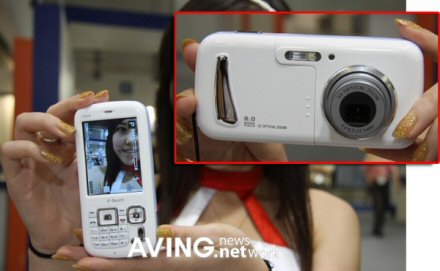 In one respect we are liking the K-Touch C280 Cameraphone because of the specs within, for example 8 megapixel camera with 3x optical zoom plus 1600 ISO support, but better still it will be using the sensational CMOS sensor from Samsung and Canon DIGIC III image processing. The downside is it seems a little too big and that the K-Touch C280 8 megapixel wonder phone will only hit the Chinese market, but if we keep going on and on at them to bring it to the UK and USA maybe we might get it. Looking at the K-Touch C280 mobile phone itself does look a bit to large but then hey it has a large job to do, the design seems ok which some of you may like. Personally not my cup of tea as I am not the one for taking photos with a mobile phone, but hey maybe I am old fashion. If they can bring a mobile phone out small enough but as powerful as a digital camera then I am all up for having and using one.
I wonder how far camera phones will go in the future, what megapixels will we see in say 10 years time. Come up with some ideas of what you think camera phones will be pushing out, what you expect them to do and what sort of technology would you like to see happen?
Source — AVING via Engadget Mobile