Win a Palm Pre in the Sprint Pre Sweepstakes
Fancy a chance of winning a free Palm Pre smartphone? If so then you may be interested to know that according to an article on everythingpre, Sprint is running a sweepstake.
By entering the Sprint Palm Pre sweepstake, you stand the chance of winning a free Palm Pre with one year of Simply Everything service and the Palm Touchstone Charger.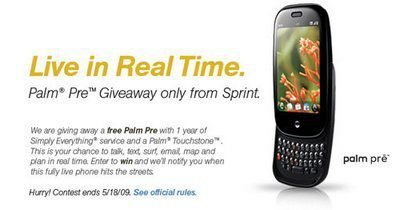 The Sprint Palm Pre Sweepstakes started at midnight on the 13th of May and continues to 11:59pm CDT on Monday the 18th of May 2009. So to be in with a chance of winning and for all the rules and regulations nip over to http://sweepstakes.sprint.com/palmpre.