Verizon BlackBerry Tour 9630 without camera for $199.99
In today's business world many businesses refuse to allow there employees to carry a mobile phone that features a camera when at work; this includes BlackBerry smartphones with cameras.
Up until now the only option for employees who want a BlackBerry without the camera facility has been the BlackBerry 88xx series, but that is soon to change according to the BGR.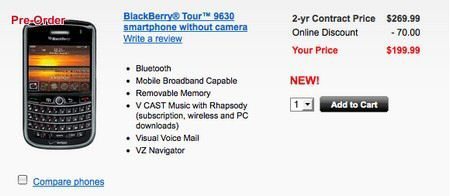 Verizon is now showing a page for the RIM BlackBerry Tour 9630 without a camera although it will still cost the same as the BlackBerry Tour 9630 with camera at $199.99.