iPhone 3.0, 3.1 and 4.0: Scheduled/ Intelligent communications and Event-based modes
iPhone OS 3.0 is here and now iPhone 3.1 has been pushed to developers, and brings the iPhone software fairly in line with most others in the smartphone market, but how about the future of the iPhone OS, iPhone 4.0?
Unwired View has taken a look at a recent Apple patent filing which shows some new applications including Event-based modes which means iPhone 4.0 could auto-adapt to different locations, reconfigure its settings, and life events.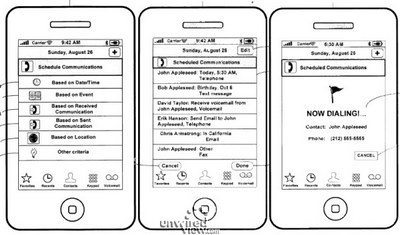 Then there is Scheduled Communications which is similar to event-based mode, however describes a way of auto-scheduling / preset communications based on your location, caller ID, calendar events and others.
There is also Intelligent Communications whereby the user can select appropriate modes for incoming communications requests based on the users availability and preference.