Hot iPad 2 Cases via Proporta: Pre-order Now
The Apple iPad 2 was a sensation last night and Steve Jobs announcement went very well, well new iPad 2 cases are being developed for the tablet and Proporta have some amazing new ones on the way and are now ready for pre-order.
Proporta have now put together renderings for iPad cases for the new iPad 2 and prices are £19.95 to £59.95, there will be 15 cases in total and two new Advanced Screen Protectors. Brighton based Proporta has sent us a couple of new iPhone 4 cases to review (Reviews Coming Soon) and hopefully after these reviews are done we will be sent a couple of these stunning iPad 2 cases, we will be getting the Apple iPad 2 soon as it is released in the UK (March 25).
All the cases will start shipping in four weeks time, please do head on over to this Proporta dedicated page where you can see these new iPad 2 products. Check out a few of these below.
Guy Monson, Co-Founder and Director of Proporta said, "It's great to see magnets being used in the new iPad to switch the device on and off. Proporta will certainly be making use of that functionality in our new line-up of cases and accessories. I know we'll also be working with our partners in the fashion industry to make sure our accessories stand out from the crowd."
The range includes two styles of Proporta's unique Aluminium Lined Leather Case, an eco-friendly Proporta Smart Recycled Leather Case, two exclusive Mizu flexible TPU shells, five fashion-focused cases from the Proporta Shine collection and a distinctive Maya II pouch range. Two Leather Sleeves, Profile Hard Shells, Leather Style Cases and a Black Leather Case complete Proporta's Apple iPad 2 protective case offering. In addition, Proporta has announced two crystal clear screen protectors: an outstanding Advanced Screen Protector and (another Proporta first) the Antibacterial Screen Protector with Steritouch, which will kill 99% of all known germs.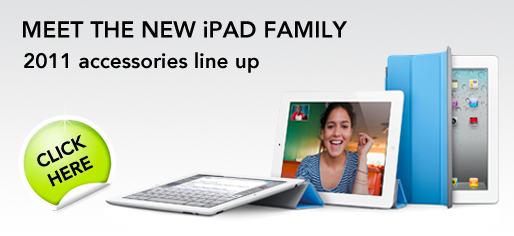 Aluminium Lined Leather Case for the iPad 2 £59.95
Part of the flagship Aluminium Lined range, which is exclusive to Proporta, it is made from the finest leather that is reinforced using lightweight aircraft grade aluminium. This provides excellent protection without adding weight or bulk to your iPad 2. Features include a notepad (for any old-school types) and an integrated, multi-position stand feature. Options available are black with a pinstripe interior or brown with a tartan interior.
Recycled Leather iPad 2 Case £39.95
Proporta has pioneered the use of recycled leather in protective cases in their Proporta Smart range. Now the legacy lives on by using this innovative, hardwearing material in a case with stand for the new iPad 2.
Mizu Flexible TPU Shell for the iPad 2 £24.95
The Mizu Shell is made from flexible TPU (a bit like hard silicone) and will fit your Apple iPod 2 like a glove, so it provides you with a high level of protection. Choose between red or black versions.
Real Leather Case for the iPad 2 £39.95
A classic, black leather, protective case for the iPad 2 with a built-in stand for easy operation and media viewing.
Shine High Gloss Case for the iPad 2 £39.95
This includes two very distinctive women's protective cases for the iPad 2, with a stand feature and room for business cards. Both cases have a high gloss exterior with patterned interior, the black version has a zebra print lining, and the red one features a beautiful floral interior.
Maya II Case £19.95
Available in three colours, black, pink and white, the Maya II cases all feature Proporta's unique Maya asymmetric lined detailing, which is what makes the Maya range stand out from the crowd.
Real Leather Sleeve for the iPad 2 £34.95
A smart and simple leather protective sleeve for the new iPad 2. The case is available in two colours, black with a pin stripe interior and brown with a tartan lining.
Leather Style Cases for the iPad 2 £34.95
Made from a hardwearing PU, both of these cases have a luxury leather look and feel. Available in brown or black.
Advanced Screen Protectors for the iPad 2 £14.95
Proporta has produced two varieties of Advanced Screen Protector for the new Apple iPad 2. Both feature crystal clear protection for your screen and one has an Antibacterial coating from Steritouch, which kills 99% of all known germs, including e-coli and salmonella.
Go to Proporta now and check out the above cases and screen protectors; we would love to know what you think. Comments most welcome. Check out a few images below

Please do visit Proporta.com as they have some amazing products, just a reminder that we will be posting hands-on reviews of two iPhone cases Proporta sent to us within a week or so.
THE IMAGES: