Exclusive: Google Plus Smartphone Infographics: Update
The Google Plus social network is becoming one of the best places to be at the moment, and if you can remember we asked our readers for their ideas of what the dedicated Google Plus Phone would look like and what features it will have.
Well today we have some exclusive "Exclusive Google Plus Smartphone Infographics" for all to see, below we will give you the information about the Google Plus smartphone information and below that you will see the infographic, please click on the infographic to enlarge. CLICK INFOGRAPHICS TO ENLARGE
The first is simply called the "Google Plus Phone" by Phones Review reader Glenn, the infographic design is a rough sketch of what the phone will look like and what features it will have.
The Google Plus Phone by Glenn will have a Google+ button and this is located at the top front left of the handset, also on the top front will be a rap around solar panel for charging, which we say is a great idea. The operating system will be Android Sunflower and on the bottom right on the front has a fingerprint scanner. Other features will include: 4-inch display with full HD, rear dual camera with at least 10-megapixels featuring Xenon flash for 3D images, the bottom left on the rear will feature the location for full WiFi support (N or upwards), the handset will also feature 64GB+ storage. On one of the sides it will feature an HD socket and the other side will have a cool video Projector. Please take a look at the infographic below (Remember to click if you want to enlarge).
Google Plus Phone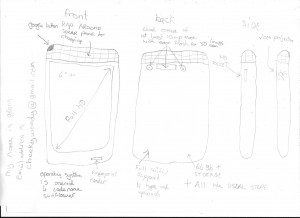 The next infographic is by Phones Review reader Charlie, his design looks brilliant and the phone has been named the "GooPhone". This phone will feature a stereoscopic lens for 3D viewing, 128GB hard drive, i7 Pentium processor, front and rear cameras both giving 8-megapixels.
If you look at the GooPhone infographic below you will see some stunning pictures of the phone, the top of the phone is highlighted in green and this will be the dedicated Google+ button for instant access to the social networking service. Check out the infographic below.
GooPhone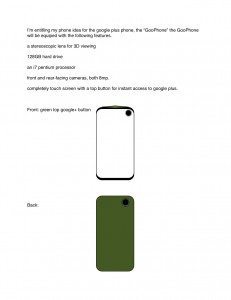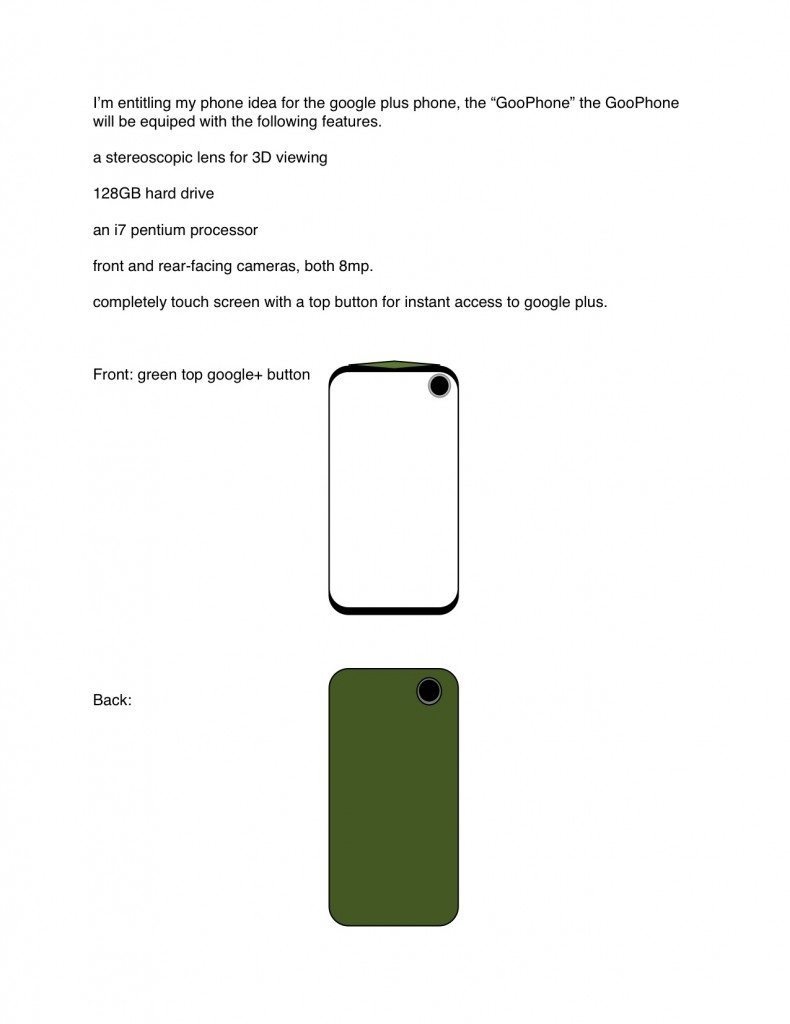 The next handset is called, "Google Plus You" smartphone by Cory, this is a simple design and is labelled with numbers where on the front you will see numbers marked 1 to 5. Look at the numbered features: 1) Back Button Key — 2) Home Button Key — 3) Menu Button Key — 4) Camera Button Key — 5) Google Plus Button.
The Google Plus You phone will feature: Android 2.3, 900×600 resolution (No 3D), Dual Core Processor at 1Ghz, 4.3-inch super AMOLED display, 12-megapixel camera on the rear, and a 3MP camera on the back, plus this phone will feature 4G LTE.
Google Plus You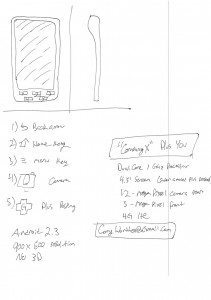 Next up is the "Google Wonder" smartphone by Ulises sanchez, this handset will feature: front and rear cameras, super AMOLED screen, dedicated graphics chip, long lasting battery, dual core processor, GPS, and Android Ice Cream Sandwich operating system.

Google Wonder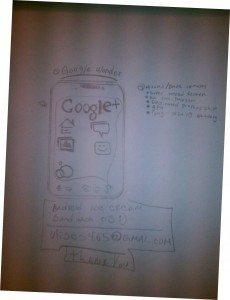 The next idea for a dedicated smartphone for Google+ does not come with an infographic, but we thought we would add it anyway. This phone has simply been called "Google Plus Phone" and is by Merie.
Merie's Description: This phone would be universally designed, anyone could use no matter if they had a disability or not. The phone would have full text-to-speech and speech-to-text features for phone and Internet service. It would be a touch screen but a non-sited person should be able to navigate it too. It would be easy to use and powerful 4G and WiFi. It could hook up to a High Definition monitor and could be connected via like AirPlay technology. The physical look would be slim and 3.5 inch (diagonal). Black in colour.
We hope you like the ideas above, if you have any ideas please post all your ideas in the commenting area below this article, thanks.
UPDATE: We have a few more inforgrahics just for you, please let me know what you think of them.
We had an email from Khalid and he has sent us an infographic of his smartphone. This phone is called the "3D Plus" and features: 12-megapixel on the rear and an 8-megapixel camera on the front, the camera shoots 1080p, comes with a 4.3-inch display, no buttons, and apparently would like it to be running Android Ice Cream. Other features would include SD card slot, Kick stand and self-charging pad, this phone will obviously come with 3D. Check out the infographic below, just click the picture to enlarge –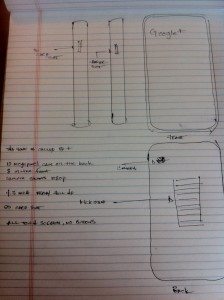 Christopher has sent us his infographic of the GConnect phone, hope you like his one below –