Motorola Droid Bionic August 4 Release: Sam's Club & Walmart
When it comes to reliability in release dates, Sam's Club and Walmart are normally correct, so customers will probably hope that they are correct this time when it comes to the Motorola Droid Bionic August 4 release date.
It seems that the Verizon DROID Bionic is set for release on August 4 according to Droid-Life, fingers crossed as they say. If you visit the Satellite Guys forum a member in their says that they are at work and claimed that the Bionic will be released August 4 and would try and post a picture when they got home, well they did and it is shown here below.
The forum member said that they worked for Walmart in the electronics department and has only been there for about 2-months (Let's hope you do not lose your job then for leaking this information), the source was shown a document of the upcoming phones and release dates and the Bionic was on the list, if it is on the Walmart list it normally is correct.
The Leaked Picture: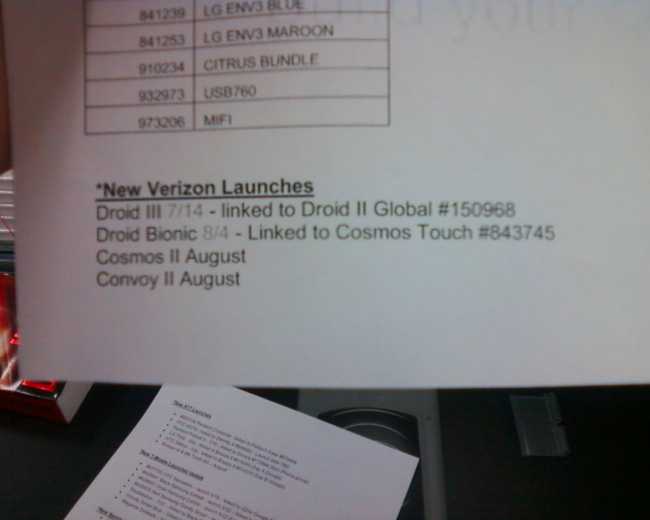 As usual this is a rumour until we hear official news from the horses mouth, I Mark Chubb will personally keep you updated on this, for instant updates please join me either on Twitter, facebook or Google+.
More Motorola Droid Bionic News: Verizon made is Droid Bionic sign-up page live, by adding your email you will receive information updates, please read the full article here.
The Motorola Droid Bionic is getting a lot of attention lately, and it seems Android fans will just flock to get their hands on this smartphone. We would love for you to post comments below on what you think about this upcoming smartphone, are you waiting for the Droid Bionic or do you have another mobile phone on your mind?
Personally we can see the Verizon Motorola Droid Bionic smartphone doing very well indeed, the specifications and features are very good indeed. Do you think it will be the best Android device to date, and do you think it will outshine the iPhone 5?
Got to admit with the main features including a large 4.5-inch touchscreen, Android 2.3.4 Gingerbread operating system, MotoBlur-style 3D home-screen carousel, Connections to a laptop dock, HDMI-out 1080p, 8MP camera, front-facing VGA camera, 512MB RAM, Bluetooth and GPS, plus 4G LTE and Wi-Fi, you know you are going to get a good smartphone.