What the New iPhone (5) will look like
The Apple iPhone 5 continues to dominate tech headlines despite the fact that many other impressive smartphones will be released before it. We've told of rumored specs, features and much more about the new iPhone (5) but one thing we haven't concentrated on much yet is what the device will look like.
Although we've heard all sorts of speculation as to what the iPhone 5 design may be like, nothing has been consistent and so far most of us have no idea about its cosmetic appearance. Different factors such as an all-glass design, teardrop shaped form factor, larger phone and much more have been discussed but the one thing we're pretty sure of is that it will look different to the iPhone 4S. When the iPhone 4S came to fruition looking exactly the same as the iPhone 4 many thought it would dent sales. The iPhone 4S has still seen phenomenal sales though so that didn't happen but we don't think Apple will risk the same design yet again.
So let's take a look at some stunning images of the iPhone 5 to make you drool. Unfortunately you may be disappointed as these are the latest concept designs and although we reckon many would like this to be Apple's actual iPhone 5 design, Apple is (as usual) keeping that a closely guarded secret, for now at least. These images though are inspiring stuff and were brought to our attention by Concept Phones, sourced from ADR Studio.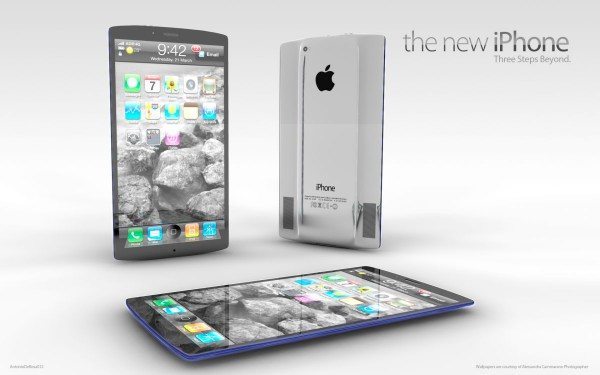 Their vision of the iPhone for 2012 is a SIM-free device and the concept supports 4G LTE connectivity without the need for a SIM card. A new audio section and panel speakers are also incorporated and the controls are at the top and the edge. This mock-up has an aluminum unibody and even has three different screen strips, one showing notifications, the bottom one for apps and multitasking and the center serving as a desktop area. A motion sensor activates the Home button and an LED-powered edge could display who's calling or the battery life of the iPhone 5 in a choice of different colors.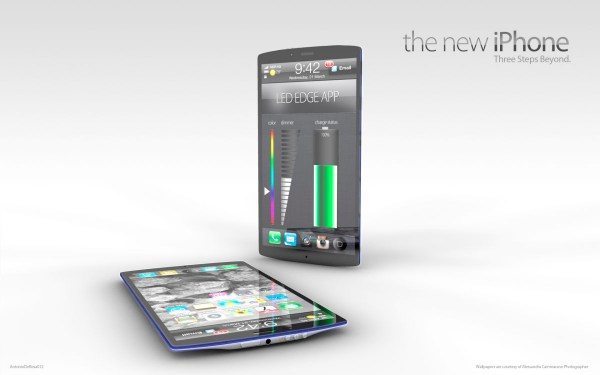 The display looks to be around 4.6-inches, as has recently been speculated for the real iPhone 5, although we feel it's not likely to be quite as big as that, and the device is slimmer than slim. The images we're showing here are from ADR Studios (link above) with wallpapers by Alessandra Cammarano and it's also imagined that this concept iPhone 5 is running iOS 6 and features an 8, 10 or even 12-megapixel camera. We think many readers will agree that this iPhone depiction is absolutely beautiful. It's sexy, sleek and sophisticated and we want one! Unfortunately that won't happen but for now drink in these images and enjoy! We'd like to know what you think of the look of this new iPhone and would you like Apple to replicate it for the genuine iPhone 5? What are your favorite parts of this design?