Motorola Droid Razr M 4G LTE specs lacks Jelly Bean
We first reported on a new Motorola smartphone destined for the Big Red known as the Motorola XT907 sometime back, and it appears that the device will now be known on Verizon as the Motorola Droid RAZR M 4G LTE, and now images of the Android smartphone, along with full specifications of the device have surface.
The guys over at Engadget managed to get hold of the images and specs for the Motorola XT907, now known as the Motorola Droid RAZR M 4G LTE, which shows that the Android smartphone will sport a 4.3-inch qHD Super AMOLED Advanced touch screen with Gorilla Glass 2, which the guys say will probably be the same ColorBoost display seen on the Motorola Photon Q for Sprint.
The Motorola Droid RAZR M 4G LTE also sports an 8 megapixel rear facing snapper, 1080p video, a 3 megapixel front facing camera, full GSM/UMTS/HSPA+ global roaming, 1GB RAM, a 1.5GHz Snapdragon S4 MSM8960 dual core processor, 8GB internal storage, NFC functionality, WiFi, runs Android Ice Cream Sandwich with virtual navigation keys, and microSD expansion up to 32GB.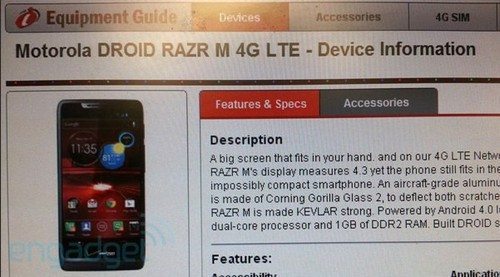 Apparently the Motorola Droid RAZR M 4G LTE weighs in at 4.44 ounces, is mobile hotspot capable with up to 5 devices on 3G and up to 8 devices on 4G, and has a non-removable battery of some description, and the rear has the same type of Kevlar as seen previously on the Motorola Droid RAZR MAXX and Droid RAZR.
And that's about all the info available on the Droid RAZR M 4G LTE handset, but no doubt more will be known such as possible release date and pricing, along with hands-on videos becoming available when Motorola holds their event on the 5th of next month, and when it does, we will of course pass it along.