Before iOS 6 release YouTube launches new iPhone app: Updated
We've been bringing readers plenty of news regarding Apple's upcoming new mobile operating system iOS 6 and back in August we told how iOS 6 beta 4 had been seeded to developers but lacking the customary YouTube app. It became apparent that Apple's license with YouTube had ended but that YouTube was working on a new app itself. YouTube and Google has now managed to release the new iPhone app before the arrival of iOS 6.
There are a multitude of changes and improvements coming to iOS 6, which we hope to hear more of at the Apple event tomorrow to unveil the iPhone 5. Just in the last few days we've posted about a release date calendar for iOS 6 and information on the new Passbook feature but many may be surprised that YouTube will no longer be pre-installed, especially as it has been present on every iOS since the first iPhone arrived. Of course users of iOS 6 will also be able to access YouTube through the mobile web but many will welcome the new YouTube app for iOS.
The new app, in the App Store now, has been built by YouTube rather than Apple according to YouTube instructions and this means much greater freedom for YouTube and iOS users who will have wider access to content such as major-label music videos, according to this Cnet report. Browsing channels using the new YouTube iOS app has also been made easier plus there are new video share options. Future plans for the new app include an iPad version and also the ability to make purchased movies and TV content from Google Play available on the app.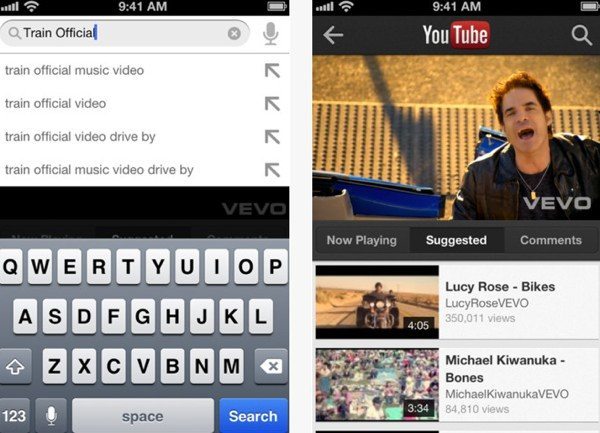 You can find the new YouTube iOS app at this iTunes link. It's a free app compatible for the iPhone 3GS, iPhone 4, iPhone 4S, iPod touch (third and fourth generation) and iPad running iOS 4.3 or later. Features include access to the massive YouTube video catalog and official music videos, voice search and query autocomplete and channel subscriptions with channel guide UI. Users will also be able to watch and at the same time see comments, look through related videos and access subtitles and video sharing options include Google+, Facebook, Twitter and email.
We have itchy fingers and can't wait to spend some time with the new app and investigate properly. Hopefully we'll also be hearing much more about iOS 6 tomorrow and we'll be bringing readers news from the Apple event as we hear it so check back with us for more. Meanwhile we'd like to hear your thoughts on iOS 6 and also the new YouTube iOS app from Google so let us know by sending your comments.
UPDATE: We have just tried to access the new YouTube iOS app from the App Store UK and it doesn't appear to be available just yet although it is definitely out in the US. If you are in the UK and manage to find the app available then we'd appreciate it if you could let us know in case we missed it and so that other readers know when it becomes available.
UPDATE 2: We have just visited the App Store on our iPhone 4S and it is now showing, thanks all.