Samsung Galaxy S3 Jelly Bean October, S2 November
If you're the owner of a Samsung Galaxy S3 (S III) or Galaxy S2 (S II) smartphone then you may well be one of the many who are impatiently waiting for the update to the latest Android operating system, 4.1 Jelly Bean. We've been bringing readers information as we hear it but sadly the timeframes seem to keep changing and whereas once we thought the official update was coming within a few days the upgrade dates seem to be slipping back.
Now the latest information suggests the official Jelly Bean update will arrive for the Galaxy S3 in October with the Galaxy S2 update coming a month later, sometime in November. Despite earlier assurances from Samsung that Jelly Bean for the Galaxy S3 would arrive in September that now seems to have put back to October at the earliest. This is bound to upset some people who don't want to chance the unofficial leaked builds of Jelly Bean and have been waiting for the official update from Samsung.
This news comes from Sammy Hub, which often provides reliable information about Samsung product news. The site has published a Facebook page from Samsung Sweden in which firmware updates for various Samsung devices are listed with timeframes. While there are no precise dates, the Galaxy S3 is shown as having the update due in October/November while the S2 is listed for November. Obviously we cannot vouch for the validity of this and as the update seems to be a moveable feast at the moment we can only hope that this latest information is accurate, although we still hope the updates may turn up sooner.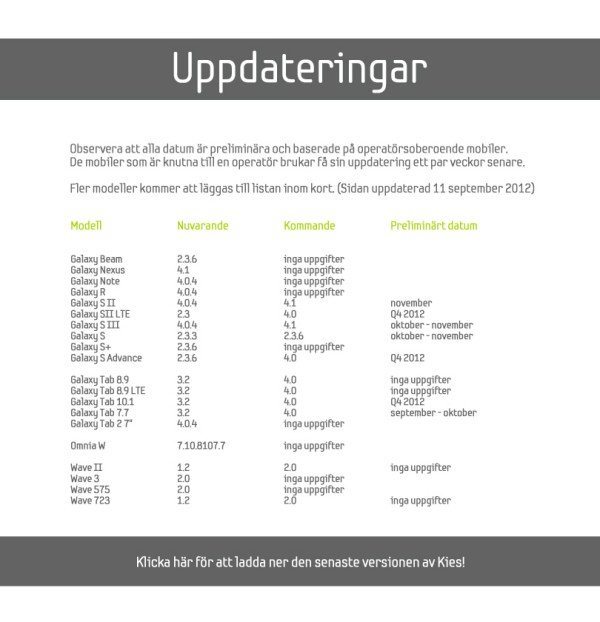 Further to this, Sammy Hub also had news from Samsung Denmark with another list showing these devices with the same Jelly Bean update times as those above, which seems to back up this latest info. Many of you may now be hoping that the update will be worth it and we'll remind you that you'll be getting your hands on new improvements and features including Project Butter, Google Now, enhancements to the user interface and much more, once Jelly Bean gets to your device.
Although it's good to have some sort of timeline for release of the 4.1 update for the Galaxy S3 and S2, we imagine that many readers will be feeling pretty frustrated that they're still waiting for their first taste of Jelly Bean. Let us have your thoughts on this. Are you the owner of a Galaxy S3 or S2 waiting to get Android Jelly Bean? What are your thoughts on how long it's taking to get the official update? Send your comments to let us know.