Samsung Galaxy Note 2 T-Mobile release and Verizon branding leak
While there may be many consumers currently busy pre-ordering a certain new smartphone from Apple, another handset has recently been grabbing the headlines and raising anticipation for its release, the Samsung Galaxy Note 2. The device is expected to release in many regions next month, and previously it was thought the US may have to wait. Now though there is news of an imminent T-Mobile release and a leak showing the device with Verizon branding.
An article over at Sammobile is reporting that sources have confirmed the Samsung Galaxy Note 2 will be arriving on T-Mobile in the US. The original handset was pulled at the last moment, but this won't be happening with the upcoming new model. The T-Mobile version will be known as SGH-T889, and as it was reported previously the T-Mobile version will have the same specifications as the international model.
Sources are reporting that Samsung are currently busy testing Android Jelly Bean for the T-Mobile version, and will come with the software pre-installed when released. The company readies test builds every 4 to 5 days and sends them out to device testers via an OTA update.
Samsung is presently testing the T889UVALIC Firmware that was compiled on September 15th, and the site already has all the Android 4.1 test OTA updates on their firmware section here. Meanwhile following a leak earlier doubts about the handsets availability have been finally put to bed.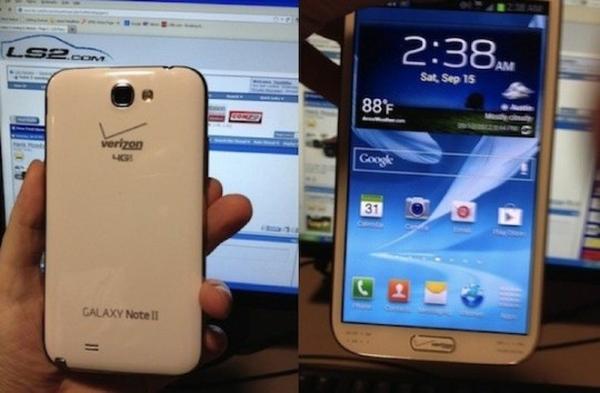 As you can see in the image above courtesy of the guys over at the Android Community, the Samsung Galaxy Note 2 has leaked covered in Verizon branding. The carrier's logo can be clearly seen on the home button as well as on the back above the 4G LTE logo.
The device could be a test model as there are some slight doubts about the images, as the logo on the back looks normal, but that can't be said about the home button. Now all we need is that all important release date, which could be happening on October 21st on rival carrier AT&T.
Are you getting the Samsung Galaxy Note 2?