Open source iControlPad 2 for Android and iOS
We always enjoy keeping readers informed with the latest innovations and today we have news of another Kickstarter project, the open source iControlPad 2 for Android and iOS. If you haven't yet heard of Kickstarter it's a site whereby those hoping to develop a new product can detail their ideas and appeal for financial backing to put the idea into production and we've already seen some great earlier ideas make it to the market.
The iControlPad2 has already received $44,000 in funding and there's another 25 days to go until the deadline on October 13, when it's hoped that at least $150,000 will have been raised. There are 455 backers at the time of writing and you can add to the backing with a minimum pledge of only $1. The iControlPad 2 is an open source controller for not only smartphones and tablets but most tech devices such as PC, Mac, Raspberry Pi, Dev-board, Robot, set-top boxes and more. The first iControlPad was a device that connected to phones for gaming but this new iteration expands that idea much further.
Some of its features are a fully user programmable microcontroller and 55 key keyboard with shoulder buttons, twin analogue nubs and high quality Dpad and a swivel clamp. When fully charged it will last for 14 hours of active use and it can also be utilized as a standard HID for any item with Bluetooth or USB connections. Because it's an open source product you can add your own commands or you have the option to use ones from other people.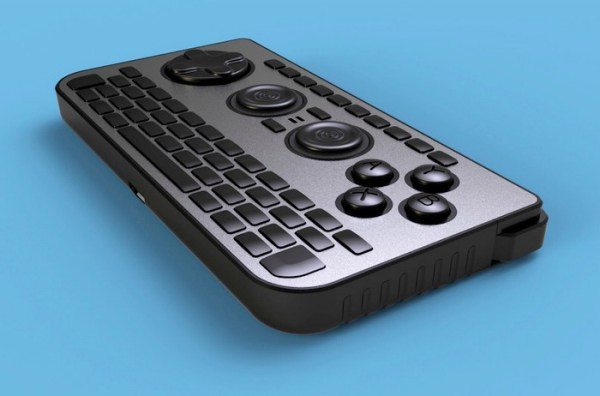 You can read much more about the iControlPad 2 at Kickstarter here where you can see that working prototypes have already been completed and the project is now just waiting for mass production, which could be in time for Christmas. You may also be interested in our earlier article today about another Kickstarter project, the xWallDock charger for iPhone or iPad.
The iControlPad 2could be the world's first open source controller so are you interested? Maybe you'll even become a backer? Send your comments to let us know.