iPhone 5 review, unboxing and new box art
It has now been a week since Apple first revealed the latest iPhone to an expectant world at an event in San Francisco. The handset is set to start landing in consumer's hands this coming Friday, and in the meantime if you have yet to make up your minds about the device, we have an iPhone 5 review for you along with an unboxing and new box art.
The latest model is clearly an evolution of the design first debuted two years ago with the iPhone 4, and as Engadget are reporting visually the device is largely the same. Only when picking up the handset do you then realize how much lighter it is compared to its predecessor, which makes more of an impact than its larger display or the thinness.
Despite the increase in screen size the reachablity of it is helped by the decrease in thickness, and it was found the black version tended to attract finger prints that were difficult to clean off. Tests have found that the A6 is dual core and clocked at 1.05GHz paired with 1GB or RAM. The new size of display doesn't stop your average user reaching all four corners with a thumb, and visually the screen still looks fantastic.
Image quality was still found among the best available on a smartphone with the speed of the camera also improved. One of the biggest complaints from users of the previous models has been battery life, but with a day of heavy usage with W-Fi, GPS, and LTE all enabled the handset managed 14 hours and 18 minutes before giving up the ghost.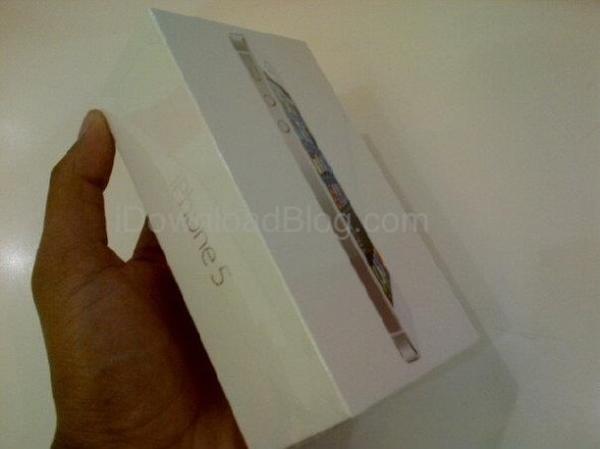 With a video running with both LTE and Wi-Fi enabled among other things the iPhone 5 managed an impressive 11 hours and 15 minutes, which was only 10 minutes short of the Motorola Droid RAZR Maxx. The handset coped well when it came to its wireless performance as well with the handset doing an excellent job of finding and keeping calls, and for the full review click the link above.
Meanwhile iDownloadBlog has some images of what is thought to be the first unboxing of the iPhone 5 courtesy of BGR, and some new iPhone box art. The images show the new iPhone 5 alongside the old model, and everything supplied with the device is the packaged in the usual minimalist way that Apple likes.
If you are still trying to decide if the iPhone 5 is for you we have rounded up some of the UK carrier pricing along with the SIM free cost of the device. Have you ordered the iPhone 5?