Galaxy Nexus gets its Jelly Bean update on Verizon at last
There will be a lot of happy Verizon customers today with news that the official Android 4.1.1 Jelly Bean update is now coming to the Samsung Galaxy Nexus on the carrier. Although the update has previously released for the unlocked Galaxy Nexus and also the Sprint variant, Big Red customers had been left behind wondering when they would get their first flavor of Jelly Bean but rest assured it's now on its way.
Reports started coming in earlier today that some lucky people were the first to begin receiving Jelly Bean on the Verizon Galaxy Nexus. Although this was not confirmed at the time by Verizon, Build JRO03O looked as though it was beginning to roll out. Now Droid-Life brings the news that the Jelly Bean Galaxy Nexus update for Verizon is approved and official and that everybody will be receiving it very soon.
The Verizon software upgrade announcement states that both Verizon and Samsung encourage users to take advantage of the upgrade that brings Jelly Bean though we wouldn't imagine users need urging to grab the update. You may have already received notification and are happily using Jelly Bean as we speak but if not then turn your WiFi on to check. Apparently the update pop-up screen says that it will only be available until October 1 via WiFi.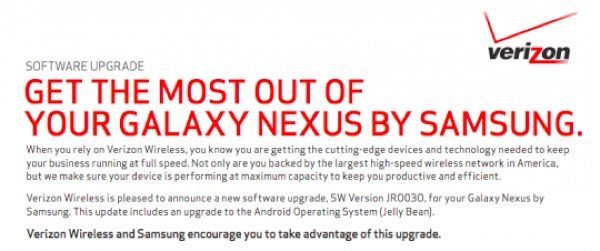 Only earlier today we published a guide to devices still expecting the Jelly Bean update and noted that the Samsung Galaxy Nexus upgrade hadn't yet been rolled out to all carriers so this will be good news to many. Are you a user of the Galaxy Nexus on Verizon? When you receive your update tell us how it went? Maybe you're already running Jelly Bean and could tell us what you think of the upgraded OS? Send your comments to let us know.