Samsung Galaxy Note 2 on Three UK, deals for you
The Samsung Galaxy Note 2 (Note II) looks likely to be a phenomenal seller with top-notch specs that have many people drooling. This large-screened smartphone has just released in the UK and is now available on Three and we have some details for you along with some of the deals available. This one will be flying off the shelves and UK readers are fortunate to see the launch several weeks ahead of customers in the US.
If you've already decided you want the Galaxy Note 2 then you can get it either online at www.three.co.uk or alternatively at Three stores. If you're still undecided then we'll remind you that some of the key specs and features include a 1.6GHz quad-core processor the whopping 5.5-inch HD Super AMOLED display, 2GB of RAM, 16, 32 or 64 GB of internal storage (expandable via microSD), 8-megapixel rear camera, 1.9-megapixel front-facing camera and the S Pen stylus. It all runs on the latest Android operating system, 4.1 Jelly Bean.
The Galaxy Note 2 comes in Titanium Grey or Marble White and has a large 3100mAh battery to give you plenty of juice. One of the Three tariffs available is the Ultimate Internet 500 24-month contract with an upfront cost of £69 and then £34 per month. This will get you 500 minutes, 5000 texts and all-you-can-eat data. Alternatively you can use The One Plan with the same upfront cost of £69 and the £36 per month. This will get you 2000 minutes, 5000 texts and all-you-can-eat data and also 5000 Three-to-Three minutes.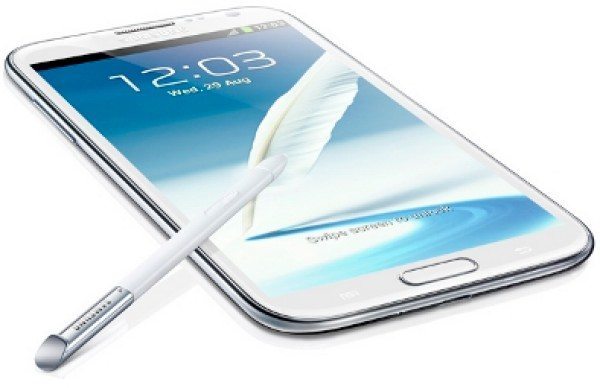 If you purchase the Galaxy Note 2 on Pay as you Go it will set you back £499.99 with a top up. Tariff examples here are All in One 15, which costs £15 and gives 30-day access to all-you-can-eat data along with 300 any-network minutes and 3,000 texts. Or All in One 25, which costs £25 and offers 500 minutes, 3,000 texts and all-you-can-eat data for a 30-day period.
These are just a few of the tariffs available on Three so check out this Galaxy Note 2 Three page for more. Alternatively you could check out this information from Phones 4 U. Please note that this is the page for the Titanium Grey version. Are you about to order your Galaxy Note 2 from Three? What has made you choose this phone from the vast choice on the market? Let us know with your comments.