iPhone 5 vs Samsung Galaxy Note 2 in fascinating detail
From time to time we like to compare two hot smartphones of the moment to give readers an idea of what each has to offer and today we're taking a look at the iPhone 5 vs. Samsung Galaxy Note 2 (Note II) with details from a fascinating infographic that has a multitude of information. If you have an interest in either of these phones then this could help you make your final decision between the iPhone 5 on the Apple iOS operating system or the Galaxy Note 2, an Android handset.
We've written many articles now on these two phones including straightforward specs comparisons but the infographic is a little different as it involves features, performance, differences, reviews, competition and more looking at the 32GB versions of each. The iPhone 5 has already released in many regions globally while the Samsung Galaxy Note 2 has just become available in the UK. Hopefully it will be released in the US after a Samsung event in New York on October 24 where it's expected to be unveiled. We've already noted specs and features of these two phones plenty of times and so we'll give you just a short rundown on some of the main ones before looking at other details of the infographic.
The iPhone 5 then has a 1.02GHz dual-core processor, 4-inch display with resolution of 1136 x 640 at 326ppi, 1GB of RAM, 8-megapixel rear camera, 4G LTE connectivity (some regions), a 1440mAh battery and runs on iOS 6, the new upgrade to Apple's mobile operating system. By comparison the Galaxy Note 2 has a 1.6GHz quad-core processor, 5.5-inch display with resolution of 1280 x 720 and 267ppi, 2GB of RAM, 8-megapixel rear camera, 4G LTE connectivity (some regions), a 3100mAh battery and runs on the latest Android OS, 4.1 Jelly Bean.
The infographic, which you can see at Sortable here, also displays the differences between the two, highlighting factors such as the iPhone 5 being smaller, lighter and thinner and also having a sharper screen. The Galaxy Note 2 on the other hand has more RAM, a better processor, expandable storage, larger battery capacity, NFC support and more.
Dotted throughout the infographic are review quotes from expert sources and then there are some suggestions for other smartphones that are in competition with these two. These include the Samsung Galaxy S3, HTC One X, HTC One X+, Nokia Lumia 920 and Sony Xperia S along with others with each showing a key aspect of that phone. There's even a neat feature where you simply click on compare and can enter details of other phones you'd like to see contrasted…. very clever stuff!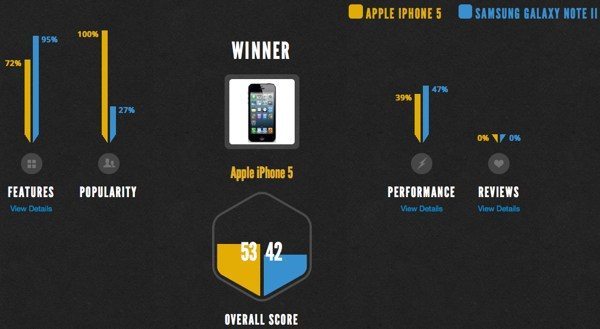 At the bottom there is a discussion section where you can ask questions of the community and the infographic also has a conclusion summing up whether the iPhone 5 or Galaxy Note 2 is best. Remember you can see the full infographic in all its glory at the earlier Sortable link. The conclusion looks at features, popularity, performance and reviews for each phone, coming up with a score for each and ending with a total overall score. The iPhone 5 is granted winning spot scoring 53 while the Galaxy Note 2 scores 42.
Obviously there are plenty of readers out there who will agree that the iPhone 5 is the best choice but we reckon there will be equally as many readers asserting that the Galaxy Note 2 is the right option. Whichever way you feel though it's certainly an interesting and useful infographic with plenty of information in one convenient display.
We'd really like to hear from readers about the iPhone 5 vs Galaxy Note 2. Do you think the infographic comes to the right conclusion about which is best? Let us know which you would opt for by sending us your comments.